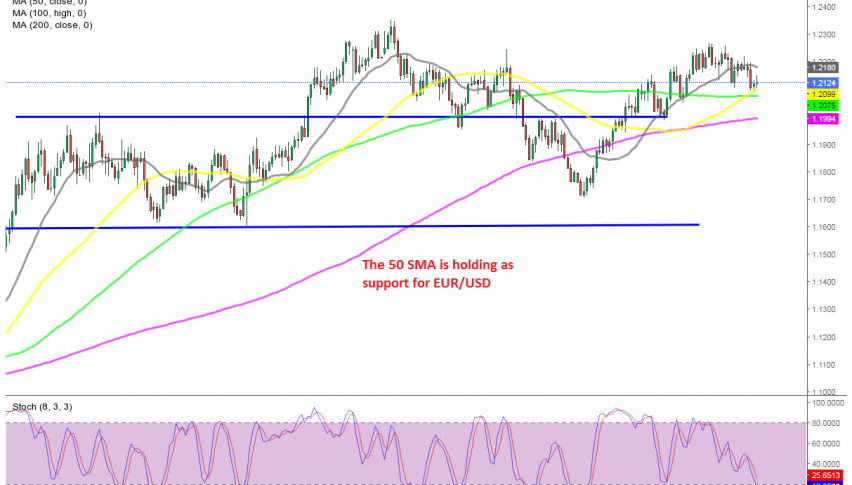 Bearish Sign for EUR/USD, After Failing to Bounce Off the 50 Daily SMA Despite Retail Sales Declining in the US Dollar
The EUR/USD was quite bearish last year, as the USD kept declining due to the political issues there. It pushed up to 1.2350s by early January, but in Q1 the USD gained some momentum and this pair retreated down to 1.17.
The bullish trend resumed again in April, as the USD turned bearish again, but this pair couldn't reach the previous highs, which was the first bearish signal. Instead, it has been making lower highs since late May and this week the price fell to the 50 SMA (yellow) on the daily chart.
EUR/USD Live Chart
Normally, we would see a bounce off this moving average today, if buyers were in control. But, I'm not sure now, since the EUR/USD is failing to bounce, even after the decline in the US retail sales in May. This is another bearish sign for the pair.
We are already short on the EUR/USD from down below, so this sort of price action is good for us. Below is the retail sales report from the US:
US Retail Sales, May 2021
May retail sales -1.3% versus -0.8% estimated
April sales were 0.0%, revised higher to 0.9%
Core retail sales, ex. auto -0.7% versus 0.4% estimated
April core sales were -0.8%
Sales ex. auto and gas -0.8% versus 0.0%.
April was revised higher to 0.1% from -0.8%
Control group -0.7% versus -0.5% estimate
April control group revised to -0.4% from -1.5%. The control group excludes food services, auto dealers, building materials and gasoline stations
Full report CLICK HERE
Overall, retail sales were we can then expectations but there were some promising revisions from the prior month. The declines come after two fairly strong months in both March and April.
The data may suggest that consumers are shifting their spending from the purchasing of goods more towards services, including travel and entertainment, as reopenings take hold and people look to get out and go on vacation.