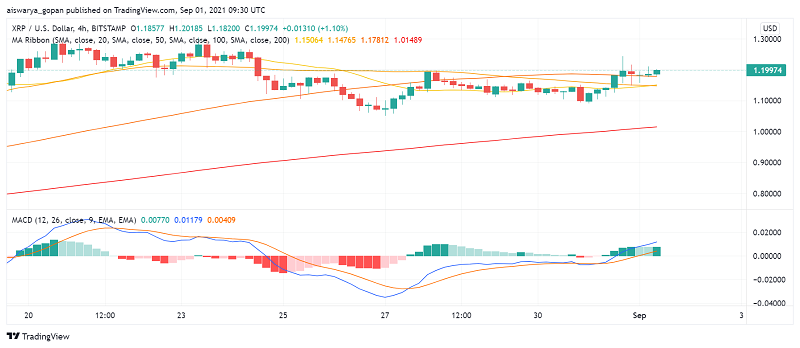 Ripple's XRP on the Move Again, This Time Upwards
XRP is off to a bullish start on Wednesday, with its price climbing higher on the back of interesting developments in the lawsuit between Ripple and the SEC. At the time of writing, XRP/USD is trading at around $1.19.
During the previous session, both parties participated in a telephone discussion with Judge Netburn in attendance in hopes to settle the privilege dispute that has been raging on for around four months now. Ripple has alleged that the SEC refuses to divulge vital information it has requested, citing DPP (deliberative process privilege), especially related to discussions the agency has had on the nature of ETH and XRP, which could potentially make or break its case.
It has now been decided that Judge Netburn will conduct a personal, in-camera review of the SEC's privileged documents to assess whether they can be shared with Ripple before ruling on the DPP issue. A ruling on this could come sometime towards the end of this month and could offer significant headway in the ongoing legal tussle.
Meanwhile, members of the cryptocurrency's community who call themselves the XRP Army have come together to protect their investments. Not only has the SEC labeled XRP as an unregistered security but it has alleged that its distribution since 2013 has been 'one long unregistered securities trade' and that every investor who participated in its trading should have known of its status as a security. The XRP Army has been tirelessly sharing the latest updates related to the lawsuit over social media, raising awareness and rallying support for their cause in turning the case in Ripple's favor.
After Ripple filed a motion demanding to know details about XRP holdings of SEC employees, the agency has filed a motion on Tuesday for the company to hand over 'hidden' recordings of staff meetings. This development could potentially go in the agency's favor as it has previously requested for such recordings and Ripple never stated that it had recorded staff meetings routinely.
The developments have created a flurry of activity on Ripple's blockchain, lending support to XRP's price. According to latest analysis by Whale Alert, earlier today, a leading XRP whale address moved over 48 million XRP coins valued at around $56 million.
Key Levels to Watch
On the 4-hour price chart of XRP/USD, we find moving averages and the MACD exhibiting a strong bullish bias. However, the momentum indicator points to some interest among sellers at the moment as well.
Ripple's XRP is holding above the pivot point at $1.16 and increased buying activity can see the resistance at $1.27 being tested soon. A break above this level opens the door for XRP to break past the $1.30 and $1.40 levels until the next resistance at $1.41.