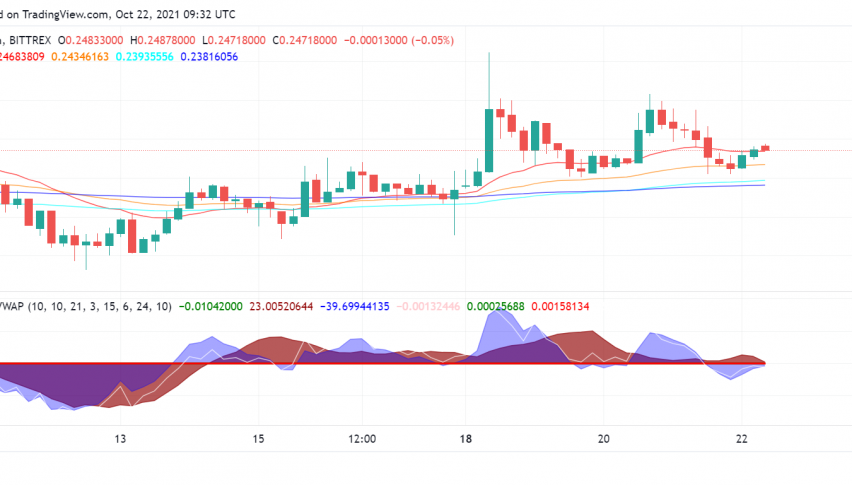 Late to The Party: Will Dogecoin (DOGE) Rise and Shine Soon?
Dogecoin (DOGE) is trading mostly steady under the key $0.25 mark into Friday, seemingly unaffected by the bull run currently underway in the wider crypto sector of late; however, on a positive note, at least it hasn't given back any of its recent gains either. At the time of writing, DOGE/USD is trading at around $0.247.
What Moves Dogecoin's Price?
As a cryptocurrency which originally started as a joke, one of the main drivers of price action in DOGE has been the market sentiment towards cryptocurrencies in general and especially towards Bitcoin. However, Bitcoin breaking out to a new ATH earlier this week failed to excite Dogecoin investors too much and the price held steady despite the bullish mood.
Another key factor that drives moves in DOGE is news of its adoption. Whenever a new business announces that they will start accepting payments in DOGE, the price rallies higher over the optimism that it could encourage more users to buy into the token. The most recent price action on account of such news came a few weeks ago when leading US-based theater chain AMC announced that it will look into accepting payments in DOGE soon. However, there have not been any significant market moving announcements as far as adoption goes since then.
Can Fundamentals Send DOGE on an Uptrend Soon?
However, it may not be all gloom and doom as far as the world's most popular memecoin is concerned. According to a recent survey by Finger, Dogecoin enjoys almost twice as high an adoption rate in the US than anywhere else in the world. Over 30% of crypto owners in the US hold some DOGE, 1.6 times higher than the average global adoption rate of 19.2%. This news may encourage more US-based businesses to start accepting payments in DOGE going forward and further drive its adoption rate higher.
One interesting update which could offer some excitement to the Doge Army is news that online art gallery DeviantArt has launched a new subscription service in partnership with Wix and BitPay, which will allow creators to cash out their earnings in Dogecoin and other leading cryptos. The service will allow content creates to craft subscription tiers to showcase their works across photographs, videos, hournals and other forms of art.
DOGE/USD Technical Analysis
Taking a look at the H4 price chart of DOGE/USD, we find a bullish bias among most moving averages. Although, leading technical indicators MACD and momentum suggest some selling interest in the market as well.
Dogecoin's price is holding above the pivot point at $0.232 but buyers seem unable to break past the immediate resistance at $0.249. In case buying pressure builds up and this level gets broken, we can see DOGE join other cryptos in moving higher until the second resistance at $0.261.