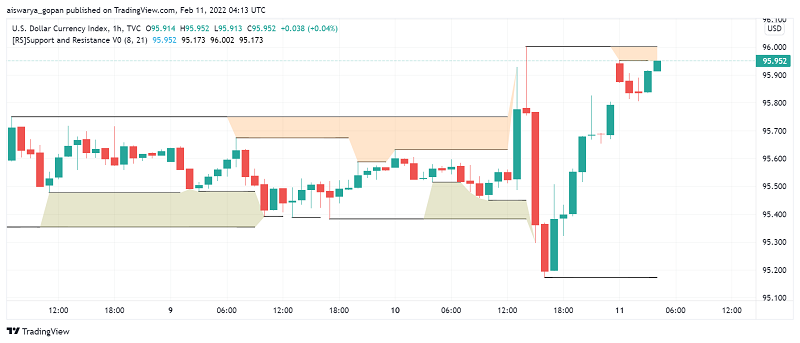 US Dollar Enjoys Strength as CPI Report Heightens Rate Hike Hopes
The US dollar is enjoying strength in early trading a day after the CPI data showed inflation rising to the highest levels seen in four decades in the US last month. At the time of writing, the US dollar index DXY is trading around 95.95.
US consumer prices surged by 7.5% YoY in January, well above economists' forecast for a 7.3% rise and remaining above the 6% level for the fourth consecutive month. This has raised expectations among investors that the Fed would turn even more hawkish about tightening its monetary policy in the months to come, starting with a rate hike in March.
Following the release of the CPI report, St. Louis Fed President James Bullard anticipated a rate hike of 100bp by July. The stronger than expected data and his comments helped US Treasury yields surge to the highest levels seen in five weeks, lending further support to the US dollar and turning it bullish.
Early in the Asian session, we saw EUR/USD slide by 0.2% while commodity currencies AUD and NZD both lost around 0.3% of their values against the USD. A 50bp rate hike for March is almost fully expected while markets now expect the Fed to hike rates by 160bp through 2022.
Meanwhile, expectations are also on the rise that other major central banks like the ECB and BOE could also turn more hawkish in the near future. The ECB is expected to sound more upbeat about the Eurozone's economic prospects next month while investors expect a 30% chance of the BOE hiking interest rates by 50bp in March.