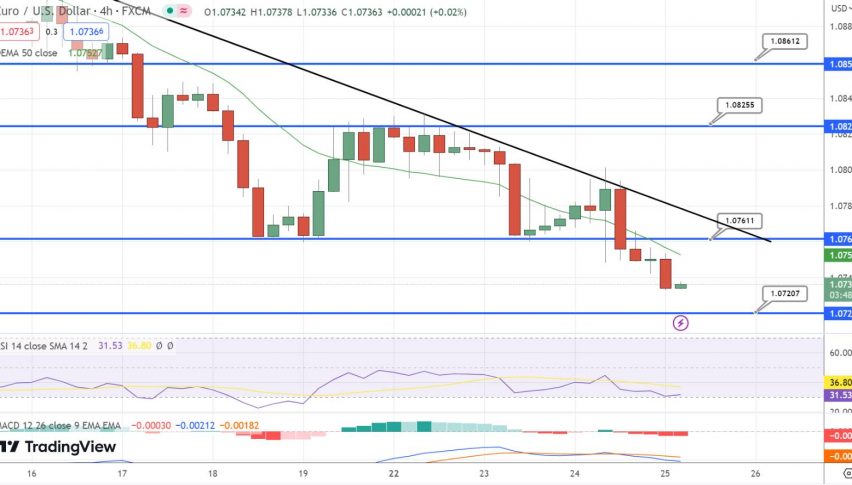 EUR/USD Hits Four-Week Low Amid Caution Over US Debt Ceiling, Dollar Strengthens
Posted Thursday, May 25, 2023 by
Arslan Butt
• 2 min read
The EUR/USD pair has reached a fresh four-week low at 1.0740 during the Asian session as selling pressure intensifies. Investors are adopting a cautious approach due to concerns over the delay in resolving US debt-ceiling issues, which raises fears of a potential default by the US economy.
In early Tokyo trading, S&P500 futures are holding significant gains supported by the dovish Federal Open Market Committee (FOMC) minutes. The majority of Federal Reserve (Fed) policymakers are anticipating a temporary pause in tightening policies due to tight credit conditions faced by regional US banks. However, market sentiment will likely remain risk-averse until a bipartisan agreement is reached between the White House and Republican leaders.
The US Dollar Index (DXY) has swiftly climbed above 104.00, reaching a two-month high. The US dollar is gaining appeal as the risk of a US economy defaulting due to the lack of agreement on raising the debt ceiling becomes more concerning. Additionally, concerns over a US default have weakened demand for US government bonds, leading to a significant increase in 10-year US Treasury yields, which are now above 3.74%.
Certainty diminishes for a June rate hike by the Federal Reserve
After a series of 10 consecutive interest rate hikes by the Federal Reserve, the likelihood of a pause in the rate-hiking cycle has increased. The release of the FOMC minutes on Wednesday indicated that several Fed policymakers advocated for a pause in rate hikes due to banking instability.
Bankruptcies declared by various US banks have compelled regional banks to tighten credit conditions significantly to prevent the accumulation of Non-Performing Assets (NPAs). As a result, credit disbursements to households and firms have significantly declined. Federal Reserve Chair Jerome Powell also supported a pause in rate hikes in a recent speech, citing the increased credit distribution filters implemented by banks as a significant factor weighing on inflationary pressures.
Focus on US Durable Goods Orders
Following the dovish FOMC minutes, investors are now turning their attention to the release of US Durable Goods Orders data on Friday. Preliminary reports suggest that April's Durable Goods Orders are expected to contract by 1.0%, compared to a previous expansion of 3.2%. A contraction in this economic data indicates weak demand, which could have ripple effects on the US Consumer Price Index (CPI).
It is worth noting that the US economy is currently grappling with persistent core inflation concerns rather than the headline price index. A contraction in durable goods demand could alleviate some pressure on core inflation, providing some relief for the Federal Reserve.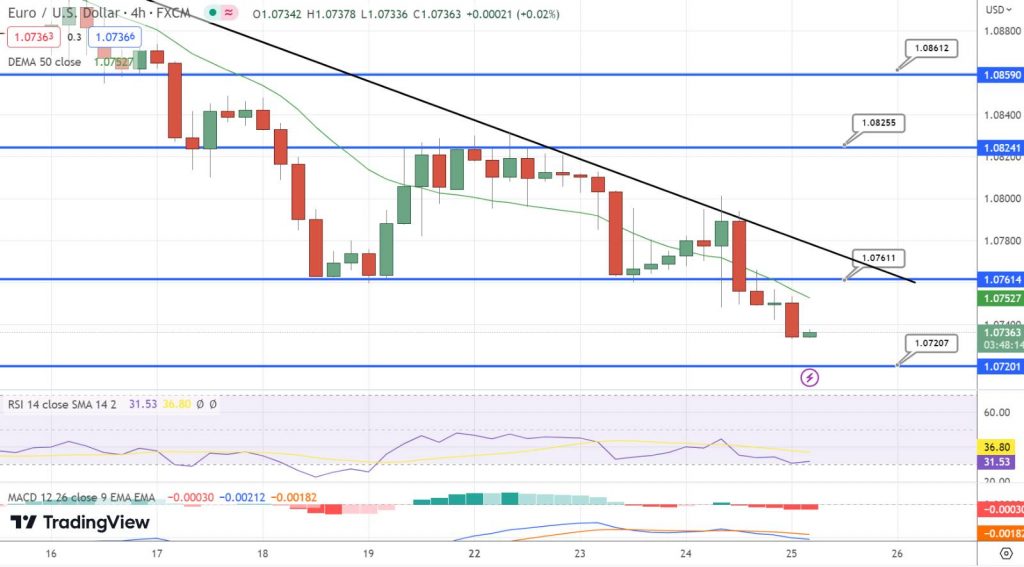 EUR/USD Technical Analysis
The EUR/USD pair has opened today's trading session with a clear downward movement, breaking the intraday bullish trend line. The price is expected to continue declining and may test the initial support level at 1.0745. It is important to closely monitor the price action when it reaches this level, as a break below it could extend the bearish wave towards the next major support area at 1.0630.
As a result, the overall bias for today is bearish, especially since the price is currently trading below the EMA50. However, if the price manages to breach the resistance level at 1.0870, it would indicate a reversal of the negative scenario and could lead to a resumption of the main bullish trend.
The expected trading range for today is between the support level at 1.0730 and the resistance level at 1.0875.
Overall, the trend for today is expected to be bearish.