Wheat Historical Price Charts – Whea Price History
Posted Tuesday, March 16, 2021 by
Arslan Butt
• 4 min read
Wheat is a widely-cultivated and highly nutritional grain. It was first cultivated in the regions of the Fertile Crescent of the Middle East in around 9600 BCE. For over 7 centuries, wheat has been grown and harvested in many countries across the world. Since 1960, the world production of wheat and other grain crops has tripled, and it is expected to increase further through the middle of the 21st Century. Wheat is one of the world's most valuable crops and it holds the title of the second most-produced grain in the world. It should be noted that almost 750 million metric tons of wheat were produced globally in 2017/18. It is also worth mentioning that after rice, wheat is the most-eaten grain in the world. Wheat is an absolutely essential dietary staple across many regions. This is probably because it can be grown in many different types of soils and climates.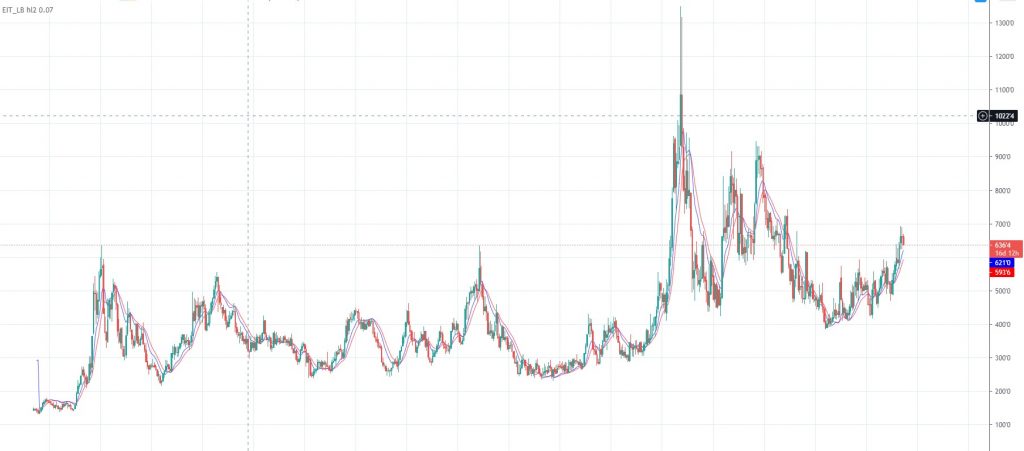 10 Years Historical Price of Wheat – Monthly Chart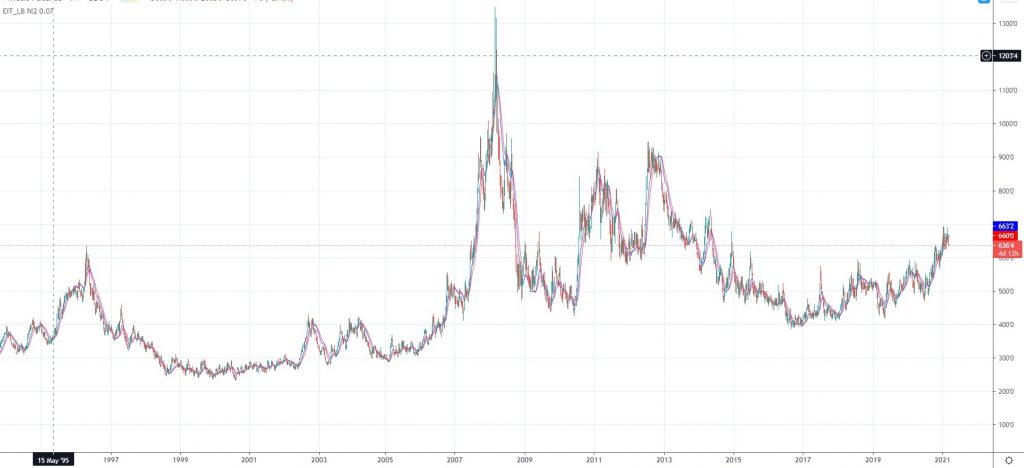 10 Years Historical Price of Wheat – Weekly Chart
Types of Wheat
There are various varieties of wheat, which may vary in terms of the colors of their kernels and their protein content.
Soft red winter wheat – This type of wheat is ideal for baked goods like pastries, cookies, and cakes.
Hard red winter wheat – This type of wheat is produced in low temperatures and snow-covered regions. It has a high protein content and is used for products like general-purpose flour, cereals, and flatbreads. It is also the most important type of wheat produced in the United States.
Hard red spring wheat – This type of wheat is grown in hot, dry climates. The properties of its gluten make it a good choice for use in baked products like croissants, bagels and pizza crusts.
Soft white wheat – This type of wheat is sweeter and softer than others. It is low in protein and gluten, which makes it great for fine pastries and cakes, as well as for Asian noodles.
Hard white wheat – This type of wheat is low in protein and is not as bitter as hard red wheat. It is used in softer bread, such as pan loaves.
Durum wheat – This type of wheat has a higher protein content than any other type. It is used to make pasta.

Uses of Wheat
The main use for wheat is human consumption. Nearly two-thirds of the wheat produced globally is used as food, as it contains several vitamins and minerals that make it a staple food product. It is used in several forms, such as premium bread flour, general-purpose flour, or cake and biscuit flour, and it is also widely used in animal feed. Therefore, human and animal nutrition represents the main use of wheat. But apart from this, there are also many other uses for this widely grown grain. The gluten and starch contained are elastic and they are able to bind water, which makes wheat useful for products like:
1) – Paper: The starch from wheat is used to enhance the strength of paper. It is worth mentioning that the paper manufacturing industry in the United States uses approximately 5 billion pounds of starch every year.
2) –  Pharmaceuticals: The gluten from wheat is used to make capsules in the pharmaceutical industry.
3) – Adhesives: The adhesive on the back of postage stamps is created with wheat starch.
4) – Soaps: Wheat germ, which is full of vitamin E, is often used in soaps and creams.
5) – Bioethanol: Wheat also plays a role in the production of bioethanol, but its role is comparatively modest compared to crops like corn.
Wheat Market Overview
The wheat market is unpredictable and subject to climate patterns that affect yields. This makes it difficult to predict price changes. On the supply front, countries in the Black Sea region are continuing to increase their production of the wheat day by day, as witnessed by data suggesting that the region, which made up less than 10% of the global grain market in the early 2000s, is now up to 25%. But the demand for biofuels is also higher and expected to rise even further due to China's clean energy projects that will be rolled out over the coming years. This might lead to more acreage being given to corn and less to wheat.
What Drives the Price of Wheat?
The five leading trade factors that drive the price of wheat
Emerging Markets –  The rise in the population in regions such as the Middle East, Africa and Southeast Asia may result in a high demand for wheat, which would cause prices to rise.
Weather – The supplies are determined by crop yields, which are heavily affected by the weather. Therefore, larger yields tend to weaken the wheat prices; conversely, smaller yields can cause prices to spike.
Ethanol Subsidies – The US government aid, in an effort to boost ethanol production, has helped farmers to increase their corn acreage. If these subsidies end, the farmers may turn back to wheat instead, which would increase production and cause prices to drop.
The Value of the US Dollar – The price of wheat is quoted in dollars. If the dollar is bullish, the price of wheat falls, as the price of wheat is inversely related to the price of the US dollar.
Government Actions – Governments implement various actions, including the enactment of import duties and tax subsidies. These usually affect the supply and demand of wheat, which can have various different impacts on wheat prices.
Wheat Suppliers and Producers
Wheat is grown all over the world. In the US, wheat is grown in nearly 42 states, and the US is only the 4th-largest producer of wheat worldwide. The annual wheat production in the US is about 55 million metric tons. China is the top producer of wheat, with an annual production of over 125 million metric tons, which is more than double the amount produced in the United States.
The top 5 wheat-producing countries are:
China

India

Russia

USA

France