EUR/GBP Signal Worked Quite Well. Rinse and Repeat?
Earlier today we posted a forex update about EUR/GBP. This forex pair has been on a downtrend that started more than a week ago when EUR/GBP peaked at 0.8960s. As we know, the tends evolve in waves and that's how this trend has unfolded.
On the hourly chart below, you can see that the moves down were larger than the upward moves. That means that the real moves are the bearish ones, while the bullish moves are just mere retraces up.
The retrace up ended when stochastic became overbought
So, we opened the forex signal during the last retrace higher.  As we have often said before, the stochastic indicator is a good indicator to show when the pullback is over in a pair. Stochastic just became overbought when we opened our sell signal, so that was the sign that the retrace was over.
The price was also finding resistance at the 100 SMA (green). That was another sign that the buyers were giving up. Well, they gave up and the sellers took control. I haven't seen any news from the UK which could help the GBP move higher, therefore this move was purely technical.
We still keep the bearish bias for this pair by the way. The price is now oversold, so it should move up soon. But, we won't go against the trend. We will wait for the retrace to be complete and then try to open another sell forex signal. The technique is the same, wait until stochastic becomes overbought and then pick a place to sell. hang around for another signal guys.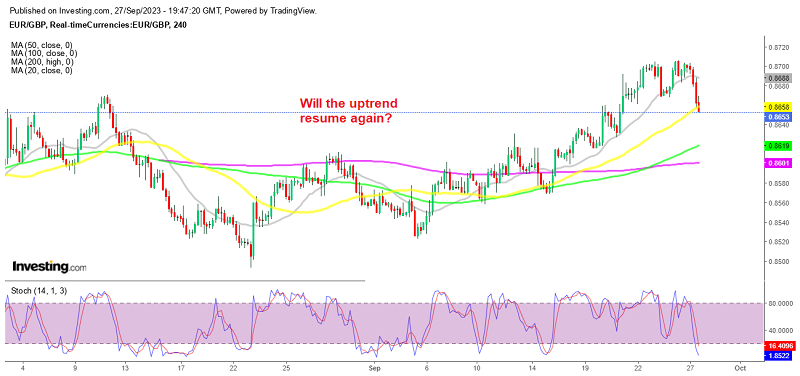 3 days ago
EUR/USD should break below 1.06 this week with the business climate and inflation softening further in September
6 days ago