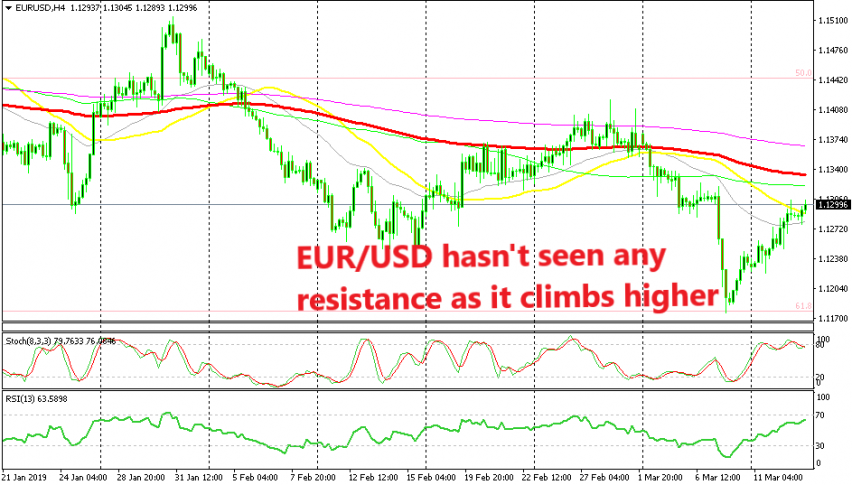 Sellers Still Nowhere to be Seen in EUR/USD as it Recuperates All the Losses From the ECB
Last Thursday the European Central Bank turned more dovish than the market was expecting, after ignoring the economic softness in the Eurozone. They decided to start another TLTRO programme which will last for 2 years, revised lower growth and inflation forecasts for the Eurozone and the globe and, most importantly for the Euro, they gave up on hiking interest rates this year.
That turned the Euro bearish that day as it should and EUR/USD lost nearly 150 pips that day. The normal price action after that would be either a direct continuation of the downtrend or a retrace higher, followed by a continuation of the downtrend after that.
But, neither of them has been happening so far. This pair has been crawling higher non-stop since last Thursday. It climbed back above the 1.12 level and 1.1220. The second level was the low from last year and it was supposed to turn into resistance now. But it didn't, and the price kept climbing higher.
Level after level, EUR/USD climbed to the 50 SMA (yellow) on the H4 chart yesterday which provided resistance at first. But, it got broken this morning as buyer decided to push above 1.13. This doesn't make much sense since the US economy is doing pretty good while the Eurozone economy is where it is right now. The FED is on a tightening cycle while the ECB is loosening its policy even more.
But, that's what the market wants to do right now. So, we should keep in mind that the downside is not favorable below 1.12, while the upside momentum fades above 1.14. It leaves us with the range of the previous few months then, so we will try to trade this range in the coming weeks.