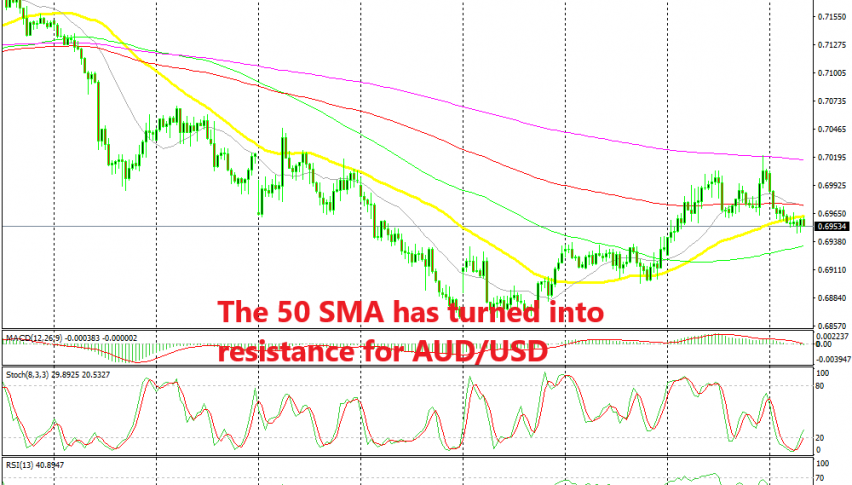 Seems Like the Trend Is Shifting to Bearish for AUD/USD as the 50 SMA Turns Into Resistance Again
AUD/USD has turned pretty bullish in the last two weeks amid some increased USD weakness which came from some pretty weak economic reports from the US. Although, the main trend still remains quite bearish as you can see from the H4 chart. The latest wave of selling happened during May as the trade war picked up again and the sentiment turned negative for risk assets such as the Aussie.
Markets are aware of that and the fact that the Reserve Bank of Australia tied its monetary policy to the FED after cutting interest rates last week. So, the Aussie doesn't really have any reason to rally and all reasons to decline further. That's why buyers have been pretty cautious during this pullback higher, compared to NZD/USD and other major pairs.
In fact, the retrace might be over now because the buyers gave up at the 200 SMA (purple) last Friday and the price has already lost around 70 pips. But the strongest signal is the 50 SMA (yellow). This moving average was providing resistance on the way down as you can see and then it turned into support when the price moved above it, two weeks ago. The price slipped below the 50 SMA last night and the 50 SMA turned into resistance immediately, which is a sign that the buyers have given up and sellers are again in control. So, let's follow the price action and see if we can open a sell trade at this moving average.