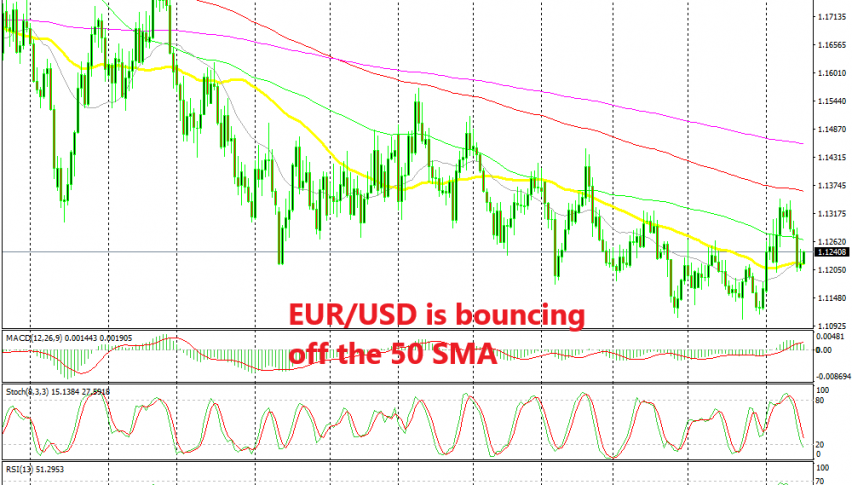 The 50 SMA Might Turn From Resistance Into Support for EUR/USD
EUR/USD turned bearish in Spring last year as the Eurozone and global economies started turning the tail and heading down. The situation has been worsening with the escalating trade conflict and the ever slowing of the global economy. Inflation has weakened as well in the Eurozone which has turned the ECB quite dovish too, so the picture remains bearish for EUR/USD.
But the slowdown in the global economy has also affected the US economy which has turned weaker in recent months as the data has shown, hence the 230 pips climb in the last few days of the previous week, the first few days of last month and the first several days of this one. The trend in this pair was pretty strong in the first few months when it started, but it slowed down later on, although this pair keeps making lower lows.
During this time, the retraces higher have ended below certain moving averages such as the reversal at the 100 smooth MA (red) in September, in December, and again last week. Other times it has been the 50 SMA (yellow) or the 20 SMA (grey). EUR/USD reversed back down by the middle of last week, but yesterday it found support at the 50 SMA which was also helped by the 20 SMA.
We saw a small jump higher after the US empire state manufacturing index which turned negative, so there is a chance that the 50 SMA turns into support now. If it does, then we will likely see a deeper pullback higher towards 1.14 or even to 1.15. Otherwise, the bearish trend is bound to continue and the support area above 1.11 will probably be broken soon. But, let's observe the price action and not come to any conclusions too early.