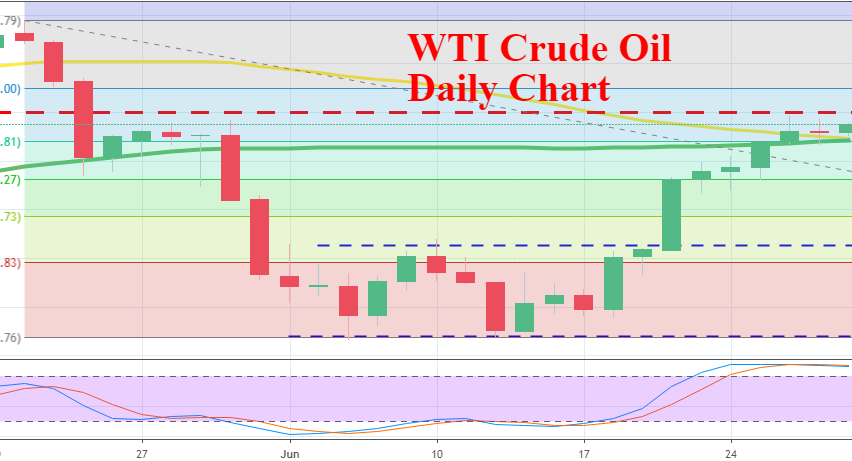 WTI Crude Oil Failed to Break the $60 Level This Week, but Still Holding Close to It
Crude Oil made a bullish reversal at the beginning of last week after US WTI tried twice to break below the $50 level in the previous two weeks. It formed a support area above $50 and the sellers gave up after the second attempt, leaving buyers alone to do their thing and reverse the price higher.
Although, the biggest move came on Thursday last week after the FED meeting on Wednesday evening which showed that the FED turned dovish as the US economy weakened considerably in the last few months, joining the rest of the globe in this economic slowdown. Crude Oil is traded in USD, so a weaker Dollar means a higher price for Oil.
The climb continued this week as well and the price broke above the 100 SMA (green) as well as above the 100 SMA (yellow) and it has been staying there since then. But, they couldn't push above the $60 level, which provided support on the way down and now it seems to have turned into resistance. Although, neither buyers nor the sellers feel confident enough to take things into their hands now and the price action has been minimal in the last two days.
Yesterday the daily candlestick closed as a doji which is a reversing signal but we are not seeing any reversal today. Nor are we seeing any attack to the upside. The market is waiting for the G20 summit to be over, which will give us some direction after that. So, I suppose WTI crude will trade in a tight range today and most likely make a move next week since the situation will be clearer by then, after the G20 summit is over.