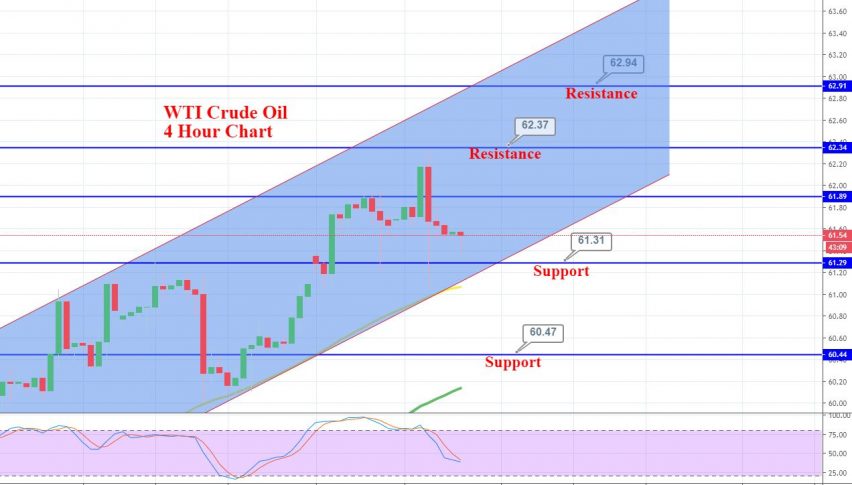 WTI Crude Oil Prices Steady, on Track for Highest Gain Since 2016
Posted Tuesday, December 31, 2019 by
Arslan Butt
• 2 min read
Today in the early Asian session, WTI crude oil prices remained unchanged by the end of the year. As we know, crude oil prices experienced the most significant annual rise since 2016 in the wake of reducing risk of the US-China trade war and OPEC supply cuts as well.
The US West Texas Intermediate (WTI) crude for February was down 3 cents at $61.65. As we recently mentioned, the WTI crude oil prices have risen by roughly 36% since 2016, mainly due to the easing uncertainty between the United States and China trade talks as well as output cuts pledged by the Organization of Petroleum Exporting Countries (OPEC) and its allies.
Meanwhile, the White House's trade adviser said on Monday that the United States and China Phase-1 trade deal would likely be signed in the next week.
On the negative side, the tensions remain high in the Middle East due to the United States airstrikes on Sunday against the Katib Hezbollah militia group in Iraq and Syria. In addition, the operations at Iraq's Nassiriya oilfield resumed on Monday after protesters temporarily stopped output.
The US crude inventories are anticipated to drop by about 3.2 million barrels in the week to December 27, heading for a 3rd-consecutive weekly decline. The most recent EIA report revealed that the U.S. inventories dropped by 5.5 million barrels in the week to December 20. The next figures will be released on Friday.
The United States is on track to become a net petroleum exporter on an annual basis for the 1st-time in 2020; moreover, output is expected to rise by 930,000 barrels per day (bpd) to a record 13.18 million bpd next year, the EIA said earlier this month.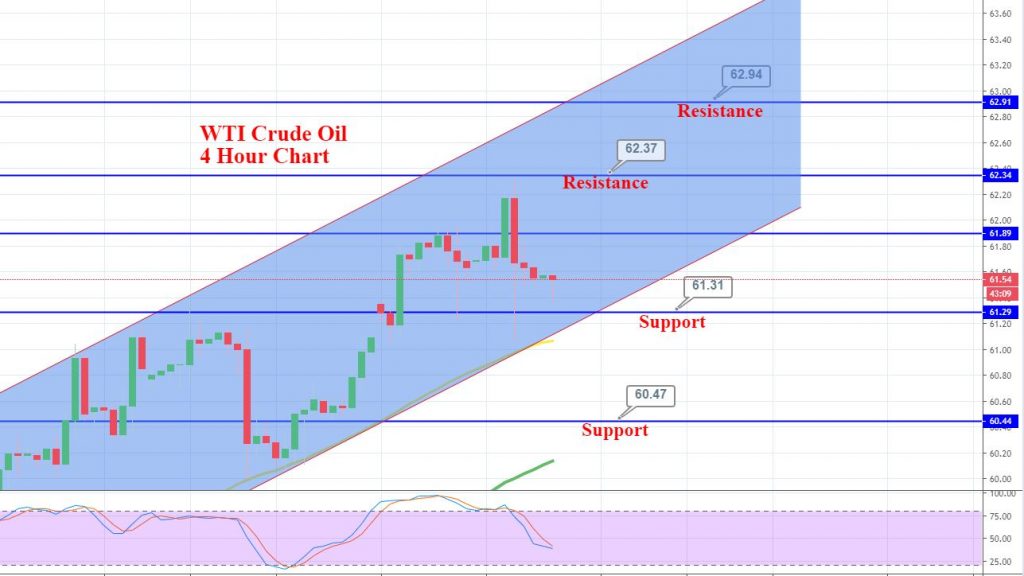 Daily Support and Resistance
S3 59.08
S2 60.34
S1 60.95
Pivot Point 61.6
R1 62.21
R2 62.86
R3 64.12
WTI crude oil continues to trade in a bullish channel, which is supporting prices around 61.35. The closing of the Doji candle above 61.35 is suggesting the neutral sentiment of traders.
The RSI and MACD are directing the bearish bias as their values stay in the selling zone. The chances of a bullish trend remain pretty high above 61.30 support level, which may push WTI higher until 61.90 and 62.30. On the lower side, the bearish breakout of 61.30 levels can trigger a sell-off until 60.45. Let's look for buying trades above 61.30 today. Good luck!