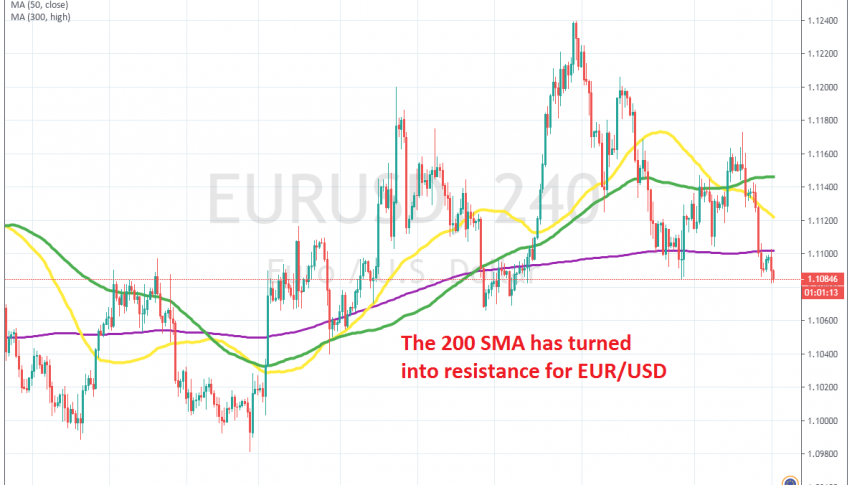 EUR/USD Turns Bearish as MAs Turn From Support Into Resistance
EUR/USD turned quite bullish in December last year, reversing from below 1.10. The Phase One deal agreement between US and China improved the sentiment in financial markets which turned this pair bullish, the UK Tories won the elections which also contributed to this reversal and on top of that, the year-end cash flows were going against the Buck, which gave EUR/USD a last push higher.
So, EUR/USD closed the month at the highs, around 1.1240. But it seems like the jolly times ended on December 31 for this pair, because the trend changed right away after that. Year-end cash flows ended and the sentiment turned negative in the first week of this year, after the geopolitical tensions between US and Iran.
EUR/USD turned bearish, although the 100 SMA (green) provided support on the H4 chart, on the first reversing attempt. But, that moving average was broken eventually and the highs started getting lower, which is a sign that the buying pressure has diminished and sellers are in control now.
Earlier today we saw a retrace higher, but the retrace ended at the 200 SMA (purple) and sellers have resumed their selling again. So, they are fully in charge now and retraces higher should be seen as good opportunities to go short. We lost that opportunity to sell earlier today, but will follow the price action to see if we can get another pullback to the 200 SMA where we will try to sell EUR/USD.