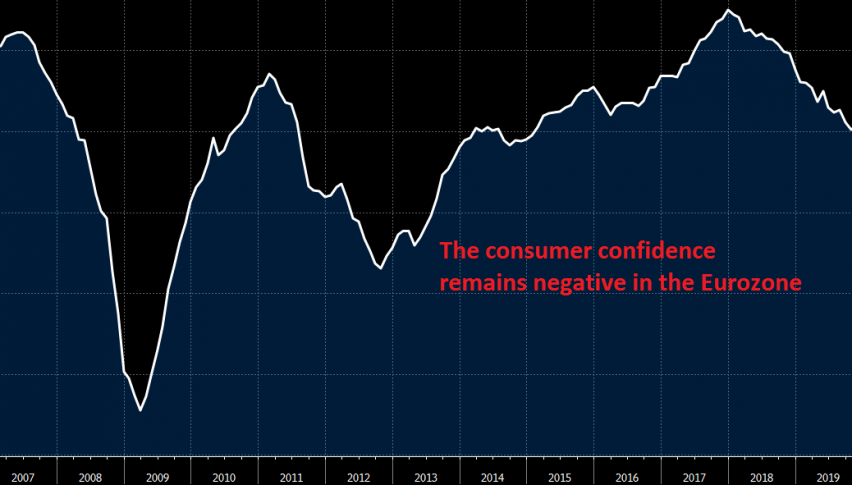 Economic Confidence Improves, But Still Remains Negative in Europe
The economic confidence tumbled in the Eurozone in March and further in April, during the lock-downs, which wasn't a surprise. It started improving in May, June and July, but the climb is slower than the decline, as it is always the case. I expect the recovery to slow down further now, so instead of a v-shape, the recovery looks more like a square root. Below is the  consumer confidence and the unemployment rate from the Eurozone for July.
Eurozone unemployment rate jumped to 7.8%, while economic sentiment remained unchanged. If the situation remains like this, then it will soon catch up with the Euro, which has been rallying for no reason.
Latest data released by Eurostat – 30 July 2020
July final consumer confidence -15.0 vs -15.0 prelim
Economic confidence 82.3 vs 81.4 expected
June economic confidence 75.7; revised to 75.8
Industrial confidence -16.2 vs -17.0 expected
June industrial confidence -21.7; revised to -21.6
Services confidence -26.1 vs -24.5 expected
June services confidence -35.6; revised to -35.5
Economic confidence continues to rebound from the lows but is still keeping at more subdued levels overall. Again, while there are hints of optimism still seen in these readings, they may be getting ahead of what the actual data has to offer and we will only find out how the two matches up in the coming months.
Unemployment Rate Released by Eurostat – 30 July 2020
June unemployment rate 7.8% vs 7.7% expected
Prior 7.4%; revised to 7.7%
The unemployment rate ticks a little higher, but also comes on the back of a worse revision seen in May. That said, the reading still belies underlying labour market conditions as it is largely masked by government furlough programs for the time being.
GBP/USD was rejected by the 50 SMA early in December, but is quickly back at it as the USD resumes decline on softer FED rhetoric
2 months ago