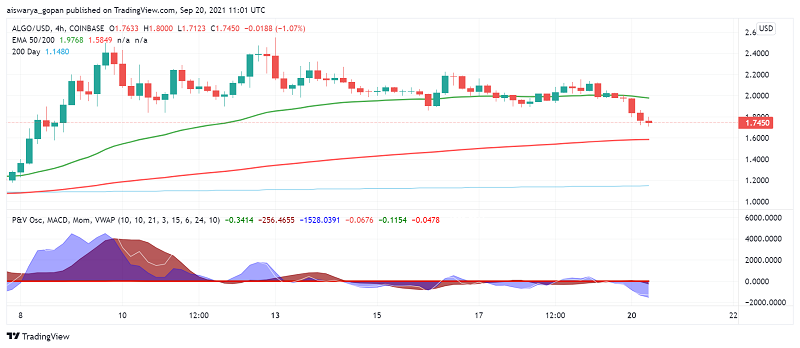 Algorand (ALGO) Breaks Down Under $2: Ready to Test Support?
Algorand (ALGO) has been on quite the downslide ever since its price broke down under the key $2 level during the previous session, despite promising fundamental developments, being weighed down by the bearish mood in the wider crypto sector at the moment. At the time of writing, ALGO/USD is trading at around $1.74.
After trading choppy for the past several sessions, the bearish moves in Algorand were triggered after crypto king Bitcoin suffered a setback and fell towards the $45,000 mark. As the world's largest cryptocurrency by market cap, moves in Bitcoin often have an overarching impact on investor confidence and when its price slides, it drives sell-offs across the board, taking down other cryptocurrencies along with it.
On the fundamentals front, however, once the sentiment stabilizes and picks up, ALGO could gain some bullish momentum from SkyBridge Capital's announcement of raising $100 million for its Algorand-based crypto ETF. The firm has already invested over $700 million in crypto assets and is planning to start an Algorand fund with a cap of $250 million soon. This development could spur further institutional interest in the cryptocurrency which currently ranks 18 in terms of market capitalization as SkyBridge Capital's founder, Anthony Scaramucci is a former Whitehouse Communications Director.
Other recent fundamental developments include e-Money protocol's integration into the Algorand ecosystem last week to support fully backed European stablecoins across the network. With this, dApps on the blockchain can offer native currency operations to European users and raise adoption of such decentralized applications among users looking to use compliant European currency backed stablecoins, including eEUR, eCHF, eNOK, eSEK and eDKK.
In an attempt to make the most of the latest DeFi hype, the Algorand Foundation announced the Viridis DeFi Program valued at around $300 million to support innovation across DeFi projects on the network. The firm behind the blockchain will look to utilize this fund towards supporting and developing a wide range of decentralized applications to operate on the network, including DEXs, money markets, NFT marketplaces and more.
Key Levels to Watch
On the 4-hour chart of ALGO/USD, most of the moving averages as well as leading technical indicators MACD and momentum are exhibiting a strong bearish bias. However, the 200 EMA and 200 SMA suggest some buying interest.
Algorand's price is well below the pivot poinat at $2.12 and appears to be making its way to test the immediate support at $1.70. Further bearish pressure can see this level break down, in which case the next support at $1.44 will need to be closely watched.