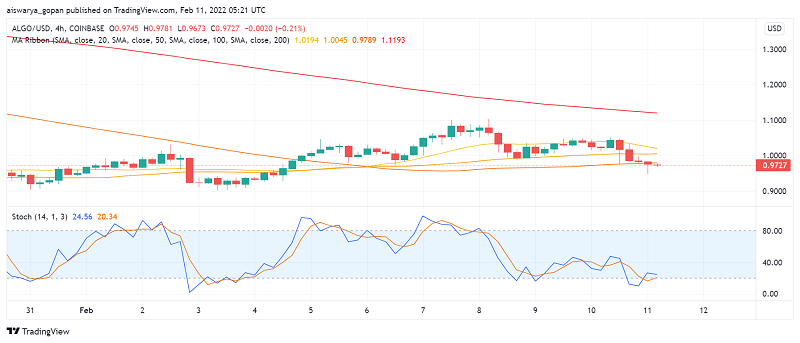 ALGO Price Prediction: Investors Cheer New Algorand CEO Announcement
Algorand (ALGO) is looking up to become one of the most interesting cryptocurrencies to monitor after enjoying a spike in the previous session following an exciting news announcement regarding its future. At the time of writing, ALGO/USD is trading at around $0.97.
Singapore-based Algorand Foundation, the firm behind the development of the blockchain, appointed former JP Morgan Executive Director Staci Warden as its CEO. After serving on its foundation since September 2021, she is all to spearhead the network's reach across the world.
Warden's previous experience also includes employment at NASDAQ , where she worked on launching a platform for trading micro cap companies, BBX. The news of her appointment has revitalized the native token ALGO's prospects among investors, sending it soaring by as much as 10% on Thursday before it eased lower on profit taking.
The cryptocurrency founded by MIT professionals has been considered by many as a potential Ethereum killer, offering an attractive ecosystem to host and run dApps with far greater efficiency. One of the biggest strengths lies in its energy efficient transaction processing capabilities, a major consideration for developers looking for an environmentally responsible blockchain.
The ALGO token could also enjoy some support from the addition of social media platform Waivlength to its grants program. The application can expand Algorand's scope in the social networking space, another emerging area of interest among blockchain networks, after DeFi and NFTs.
ALGO/USD Technical Analysis
Technical analysis of the H4 chart indicates a strong bearish bias among moving averages and popular technical indicators MACD and momentum. However, the Stochastic is pointing to some buying interest among investors as well.
Algorand's price is trading under the pivot point at $0.99 but above the immediate support at $0.93. Let's see if the positive news brings more buyers as we could then see ALGO rise above the PP soon.