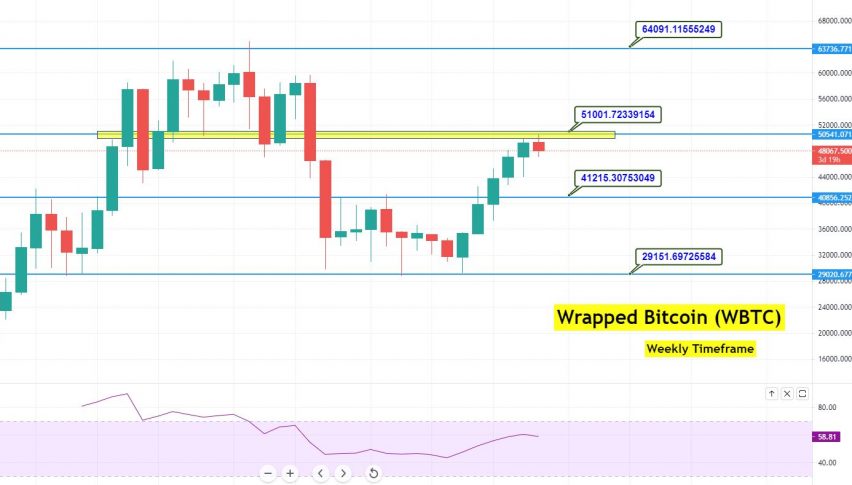 Wrapped Bitcoin (WBTC) Continues to Rise. Could It Be Bullish?
The market is up slightly today, with Bitcoin (BTC) leading with a 1.18% increase and pulling the rest of the market with it. Stablecoin Wrapped Bitcoin (WBTC) is up 1.26% to bring the WBTC rate to $39,030.48 (WBTC/USD). There is hope that this is the start of a bullish movement for the crypto stablecoin and the larger market.
How Is Wrapped Bitcoin Performing?
That 1.26% increase may not seem like much, but a wider view of Wrapped Bitcoin and Bitcoin both shows that they are steadily rising. Since late in the day on Tuesday, Wrapped Bitcoin has been climbing- a 3.7% increase. This comes after several days of minimal movement, which means we could be in for something much bigger over the next few days.
The crypto market has been unstable recently, moving erratically and seeing some short bullish breakouts every so often, despite a global economy that is hindered by inflation and ongoing war in Ukraine.
Ove the past 30 days, Wrapped Bitcoin and Bitcoin have moved gradually downward, from a peak for $46,783 to a low point of $37,723 yesterday. With only some minor upward movement since yesterday, is there really hope that this crypto will turn around and start going bullish for any length of time?
Should We Expect a Bullish Trend?
What we are seeing could indicate only a short-term bullish action. The WBTC rate could fall back down before the weekend and continue the overall bearish trend, but it may be due for a breakout. What could signal a change in overall momentum for this crypto and the wide market is if Wrapped Bitcoin were to move back past $40,000 and stay there for a couple of days. That could give it the foundation to keep moving upward for a while.
Because Wrapped Bitcoin has been trending down for so long, the expectation is that investors will take advantage of the low point and start buying up tokens while the price is right. That could spur growth and move this crypto back past the $40,00 level and help push it on further for the short term at least.
Looking at the long view, it doesn't seem like Bitcoin or Wrapped Bitcoin are going anywhere significant, but the short-term window shows a different perspective. There is potential for these cryptos to lead the market in a bullish trend that could last all weekend.