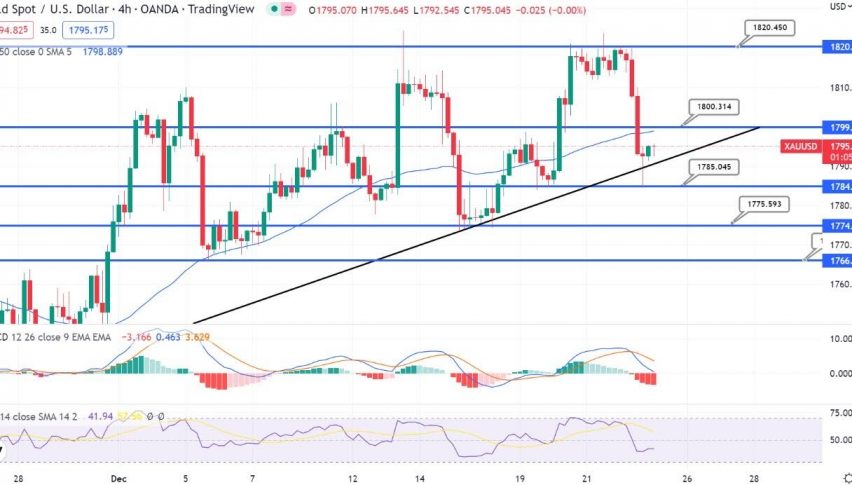 Gold Halts Downtrend – Upward Trendline to Drive Buying above $1,790
The price of gold has dropped to a key region on the daily charts, as illustrated below, after losing 1.5% on Thursday. The yellow metal has dropped below the key $1,800 level as the gold price continues to find obstacles in its bid to break out to the upside.
The fundamentals of the GOLD price have been the best indicator of how the market thinks the Federal Reserve (Fed) will act in 2023. US Treasury yields climbed on Thursday after data revealed that weekly jobless claims grew less than predicted in the US. 
The 10-year Treasury yield in the United States is up 0.14% at the time of writing, although it reached a high of 3.692% earlier in the day, which is negative for the gold price because the precious metal gives no interest. The US dollar and gold price took their cues from the Department of Labor, which reported that seasonally adjusted initial jobless claims increased by 2,000 to 216,000 in the week ending December 17. The consensus on Econoday was for a print of 225,000. 
The prior week's figure was up by 3,000 to 214,000. The four-week moving average fell by 6,250 from the previous week's corrected average of 228,000 to 221,750. Unadjusted claims fell by 4,064 in a week to 247,867. 
Following the results, the US dollar was in demand since this data might keep the Federal Reserve (Fed) hawkish for longer. The Fed forecasted that borrowing costs would rise by at least 75 basis points by the end of 2023. From a low of 103.75, the DXY index, which gauges the US dollar against a basket of currencies, rose to the 104.50s. 
On the other hand, the US dollar remains considerably below the month's high, near 107.20, and the gold price has benefited from the decline in recent weeks.
Gold Technical Outlook
Since the morning, the gold price has mostly stayed the same. As long as it is above $1,785, the bullish trend scenario will remain valid today, backed by an upward trendline supporting gold near $1,785.
The stochastic and EMA50 both point to a bearish bias. So, if gold breaks below $1,785, it could go as low as $1,775.
Today's projected trend: Bullish above $1,785
Yesterday the CPI numbers from European countries showed a slowdown, so today's headline Eurozone inflation numbers should be soft as well
3 days ago