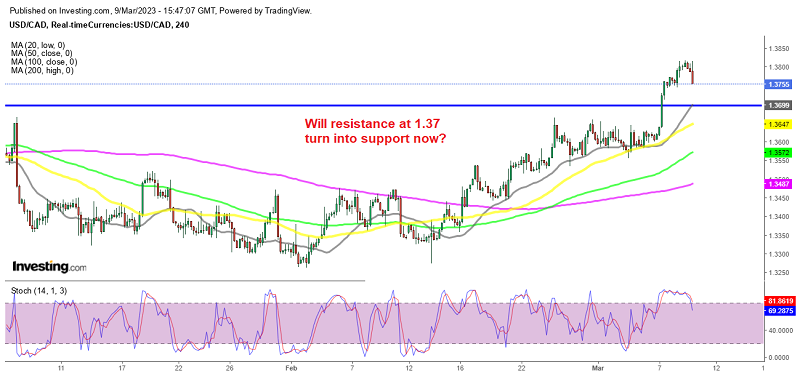 Looking to Buy the Retreat in USD/CAD, Gold on Softer USD Today
USD/CAD has been benefiting from the diverging in the FED and Bank of Canada policies. The BOC left interest rates unchanged in the last meeting at 4.50% and sounded neutral in the statement, while markets were expecting some hawkish rhetoric at least. that sent the CAD lower. On the other hand, the FED continues to raise interest rates and some are expecting a 50 basis points (bps) rate hike this month, although Jerome Powell left the policy at the mercy of the data yesterday.
The USD reversed lower yesterday and today, the USD is declining further, with the initial jobless claims numbers contributing to the retreat. They increased to 211K last week, breaking a seven-week streak of being below 200K. This trend indicates a possible weakening in the US labour market, which is one of the main indicators the FED is looking at, besides the CPI consumer inflation figures.
Even though Powell made some hawkish comments on Tuesday when he said that rate could go up to 5.75%, the forward-looking market seems to be disregarding them and is now questioning whether the market has gone too far. In other words, the market may have overreacted, and there is a growing sentiment that the hawkishness may not be as severe as previously thought. But, the overall trend remains bullish for this pair, so we are looking to buy this retrace lower once the retreat in the USD is over.
US Weekly Initial Jobless Claims Report
Weekly initial jobless claims 211K vs 195K expected
Prior week claims were 190K (unrevised)
Four-week moving average 197K vs 193K prior
Continuing claims 1718K vs 1659K expected
Prior week continuing claims 1655K
Unadjusted claims 237K
The mentioned statement indicates that the recent data shows an increase in numbers related to risk assets and a decrease in the US dollar. This is the highest recorded since the week of December 24, and if we exclude the holiday period, it is the highest since December 3. The market seems to be very sensitive to economic data at the moment, and this increase serves as a reminder of that fact. However, this trend might be limited due to tomorrow's non-farm payrolls report.
Here's an interesting chart: Not-seasonally-adjusted US workers getting benefits rose above year-ago levels.
USD/CHF is testing the previous support above 0.91 after the GDP report released earlier this morning from Switzerland
2 days ago