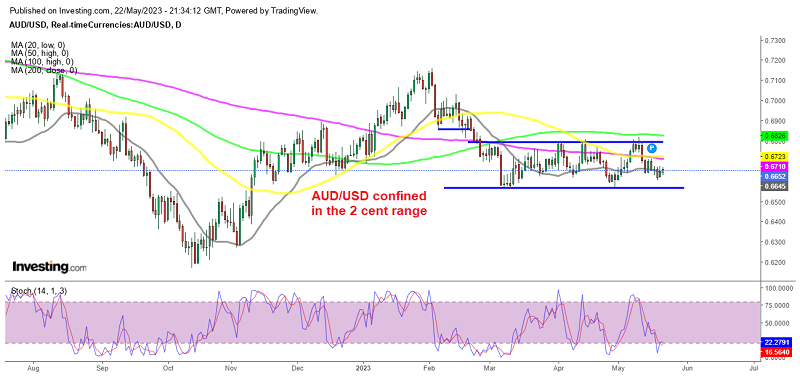 AUD Still Undecided After Today's Economic Data
AUD/USD has been trading in a range between 0.66 at the bottom and 0.68 at the top for several months now, as the uncertainties regarding the global economy and further interest rate hikes by the FED and other central banks remain high. This pair tested the top of the range about two weeks ago and pierced it for a while, but it reversed back down and headed down toward the bottom of the range.
Although, the Aussie received a boost due to dovish comments made by FED Chairman Jerome Powell on Friday. The market has interpreted this as an indication that there may be a pause in monetary tightening by the central bank in June. This dovish sentiment outweighed any hawkish remarks from regional Federal Reserve presidents last week, which continued yesterday.
As a result, AUD/USD experienced a corrective upward movement against the US Dollar (USD) on Friday, but yesterday we saw some slight bearish momentum again. The economic data early today didn't offer much of a surprise, with manufacturing activity remaining in contraction while services remained in expansion.
Australian Manufacturing and Services PMI for May
Manufacturing 48.0 points (prior was 48.0 points)
Services down to 51.8 points in May from 53.7 points previously
Composite PMI also lower to 51.2 points from 53 points in April
Commentary from the report, in brief:
Both the output and new orders results are in expansionary territory. Over the past two months, we have seen the best readings since the middle of 2022. This brings into question whether the economic slowdown of the past year has run its course.
Australia's manufacturing sector continues to slow in May and is on track for a 

soft landing

. This is consistent with a global manufacturing slowdown, weaker consumer goods demand and a lack of growth in construction activity across the Australian economy. "The manufacturing indicators do not signal recession. We would need to see a further marked deterioration in the manufacturing survey to be concerned about a sharper downturn.
Far from the risk of recession, the services PMI suggests that the risk is that the Australian economy is experiencing a pick-up in activity since February.
While better economic conditions are always welcomed, the complicating factor in 2023 is 

inflation

. The RBA is trying to engineer a soft landing to rid the economy of inflation. But if they don't lean hard enough on monetary policy, we could see a more stubborn inflation emerge which will ultimately require a bigger lift in interest rates.