The Buck Is Still on Retreat – A Buying Opportunity?
This year so far has been negative for the US Dollar. After two months of a strong uptrend, it is normal that we go through a period of consolidation or retrace. 
It looked like this pullback was going to come to an end last Thursday after the ECB president, Draghi, delivered another dovish speech for the Euro, which often turns bullish for the Buck. 
But the forex market doesn´t think that this USD pullback is enough to get on the other side of the trade just yet. We saw the next leg of the retrace get underway on Friday afternoon, which is continuing this morning as well. 
This retrace has stretched about 300-500 pips by now, so the time for another long term signal is coming. USD/JPY is trading at 113.50s now, but that´s still 100 pips higher from the low last week.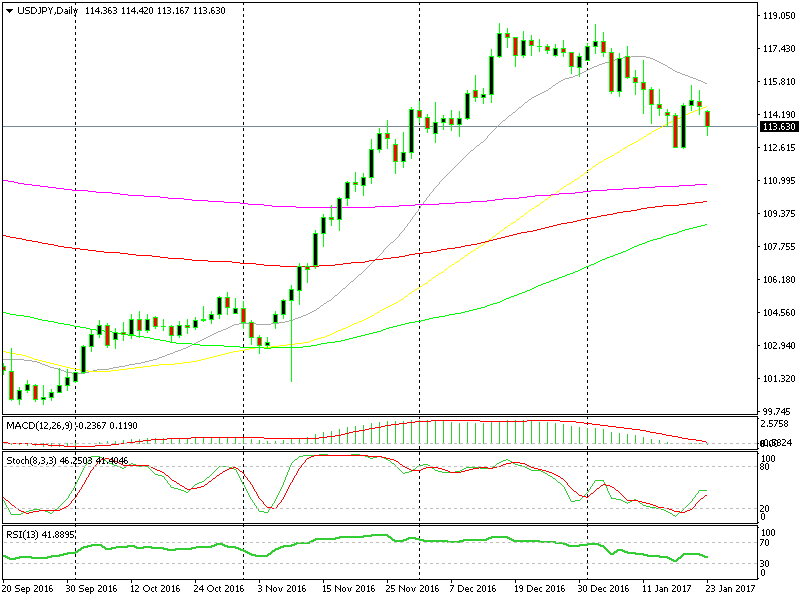 A number of moving averages are hanging around the 1.10 level. 
The daily chart looks bearish as we mentioned in the weekly review. As you can see on the daily USD/JPY chart above, after a few days of gains, forex traders are favouring the downside again. 
We closed our long term USD/JPY signal last week for more than 100 pips, so we don´t mind it slipping lower. The 110 level looks strong enough to support a long term buy forex signal. We´re still about 300 pips above there, but with the way things have developed recently, 300 pips can be covered in a couple of trading sessions. 
GBP/USD and EUR/USD also look luring for sellers, but we already have one long term sell forex signal on this forex pair and we will look into GBP/USD shortly. 
Durable goods orders showed a 0.2% increase in August, against -0.5% expected and July's -5.2% decline, which was revised to -5.6%
4 hours ago