Last Friday, we opened a buy forex signal in EUR/GBP. The main reason for this signal was the 0.8660 level itself. The area around there provided support and resistance several times previously, so we thought that the odds were with the buyers at that time.
That wasn´t all; we had a few more reasons to go long in this forex pair last Friday. The H4 chart was well oversold with both stochastic and RSI indicators hanging around that area.
So, the technical analysis was totally pointing up in the hourly and H4 charts. The daily chart offered a bit of a contradiction, but it wasn´t enough to topple the odds against us.    
As soon as the Asian trading session started, this forex pair started to crawl up slowly and before we knew, it was standing just below the 100 SMA on the hourly chart. Our take profit target was just around there, so that forex signal closed in profit.
I had this idea to short EUR/GBP again since the hourly chart became overbought and the 100 SMA was providing some sort of resistance, but the H4 chart was strongly bullish at that time (around 4 pm GMT), so we stayed away from it.
We sold GBP/USD instead. This was the weakest of the major forex pairs last night after the initial USD tumble in other pairs stalled. Well, that forex signal lasted during the Asian session, but in the last couple of hours, the dollar went through another rough period, so this pair jumped and our signal got smoked. Not a good start, but let´s try to make it great.     
We decided to open a sell EUR/GBP signal after the bounce today, as German GDP posted a decline in Q4, ahead of the ECB meeting
2 days ago
EUR/USD has gained 14 cents since October, but might be time for a bearish reversal as economic dat improves in the US
2 days ago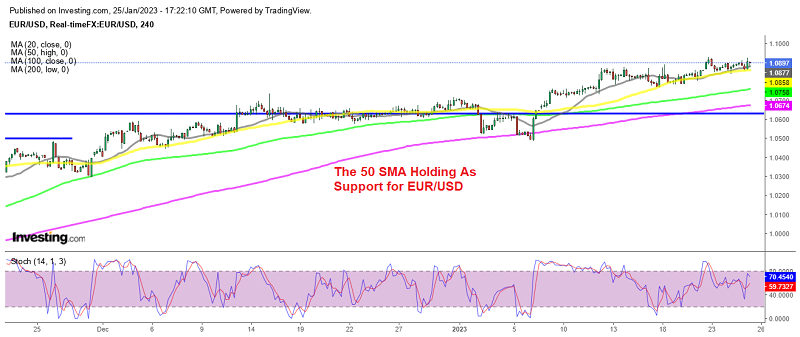 1 week ago