Late U.S. Session Forex Brief: Trading The USD/CAD And USD/CHF
As I mentioned in an earlier brief, today has been a nice day for the USD across the majors. The finish line is drawing near, bringing correction to the robust price action seen earlier in the session. Ranges are tightening on intraday timeframes, bringing price in from the extremes towards value.
We have a few key support areas on the board for the USD/CAD and USD/CHF. With a bit of luck, we may get a late-day trade or two.
USD/CAD Technical Outlook
A key area of daily support is threatening to become active in the final hours of the forex session.
USD/CAD, Daily Chart
Below are a few areas to be aware of moving forward:
The 78% Fibonacci retracement from August 31 to Sept. 11 of 1.2530 has served as both support and resistance over the past two weeks.

We have a double top formation consisting of October highs in the vicinity of 1.2600.
Trade Idea: I will be taking late-day longs from 1.2530-1.2535 if possible. An initial stop under the intraday low of 1.2513 should produce an affordable 1:1 risk/reward winner of at least 17 pips.
USD/CHF Technical Outlook
The USD/CHF has seen a bullish break over the course of today's session.
USD/CHF, Daily Chart
A few observations regarding this market:
The topside resistance of .9800 has held, with price coming off of intraday highs at .9808.

The 38% retracement of the yearly range at .9770 has been an area of huge participation over the past ten sessions.
Trade Idea: Taking a long trade from the established resistance/support area of .9775-.9770 is a solid way to capitalize upon the intraday pressure. A 1:1 position long with a stop below the intraday low is a good way to play tomorrow's open for a 30 pip profit.
Overview
This afternoon will bring the Treasury International Capital statistics facing the USD. If you are in one of these trades, be cognizant of the release data. In addition, tomorrow's U.S. session will be headlined by the construction metrics. In the event of a big surprise, volatility may spike, so be smart about the use of leverage!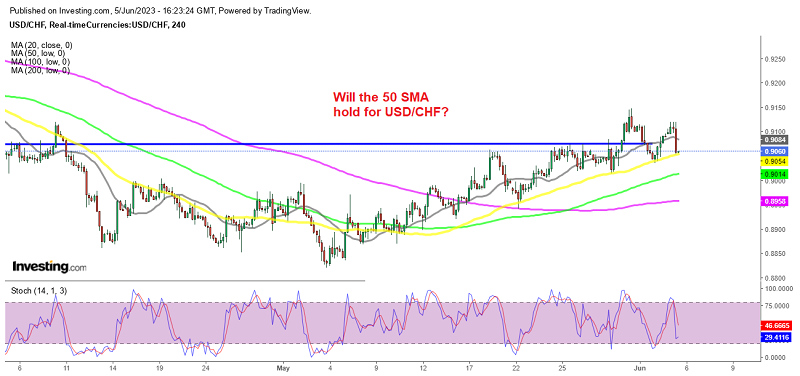 21 hours ago
Consumer inflation CPI started increasing again last month, while USD/CHF is facing the 100 daily SMA as resistance above
1 day ago