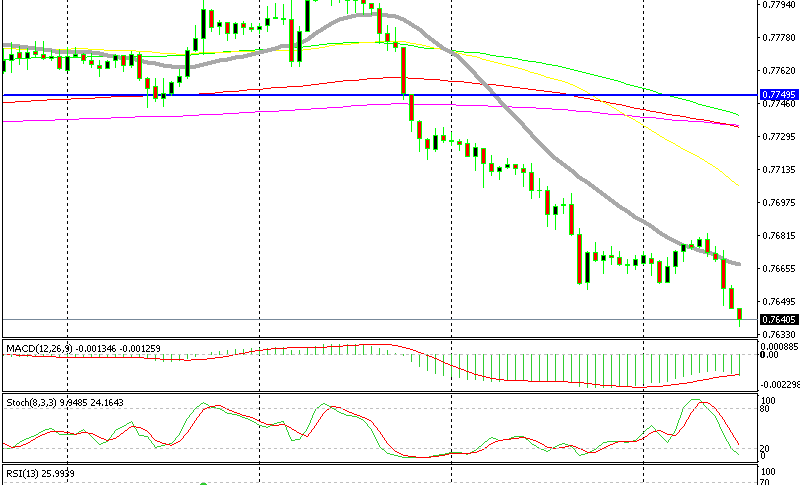 Commodity Dollars Can't Get Their Act Together
Commodity Dollars had a terrible week which ended with a 150 pips loss. They had been on a nice uptrend for a few weeks with the US Dollar under pressure. When the USD started recuperating last week the impact was felt in the commodity Dollars, apart from the GBP.
The Aussie was holding on well until Thursday, but the momentum accelerated and AUD/USD joined the other commodity Dollars in their bearish trip. This was a move which affected all commodity Dollars and other majors as well.
Stochastic is a great indicator, showing overbought and oversold levels
AUD/USD started the day with some positive momentum. NZD/USD opened with a gap lower and resumed the downside right away, while AUD/USD was climbing higher.
The price action in AUD/USD didn't look promising since the Canadian Dollar wasn't recuperating, which meant that commodity Dollars were still in a bearish mode. Causing the small climb in AUD/USD to look like a good opportunity for shorts.
This forex pair climbed around 20 pips in the first few hours of the morning and it moved above the 20 SMA (grey) on the hourly chart. But, once the stochastic indicator became overbought, the buyers starting giving up and the sellers became active.
AUD/USD reversed again lower and it is now more than 40 pips lower, so we lost the chance to sell this pair up there. Although, it still remains strongly bearish. The trading plan for this pair now is simple: wait for a retrace up, probably to the 20 SMA again and then open a sell forex signal when stochastic is overbought.