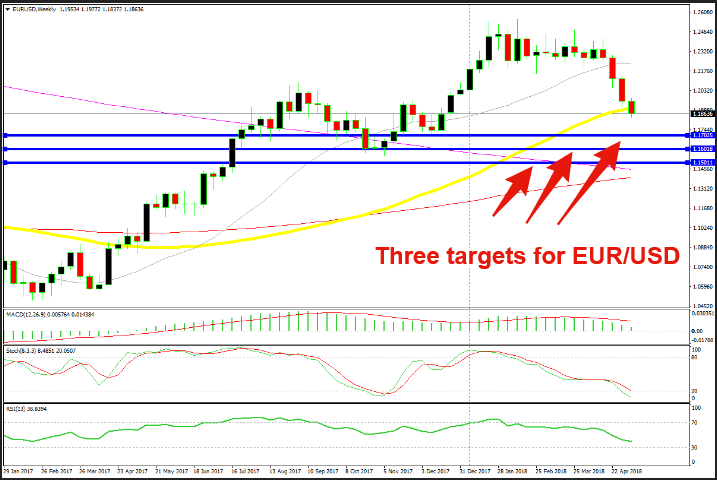 1.18 Is History in EUR/USD. The Next Targets For the Bears 
EUR/USD has entered a really strong bearish phase. It has made four consecutive losing weeks. The thing is, not only is the downtrend not stopping, but it is picking up the pace. This sort of price action shows that the bears are in total control. The bulls are nowhere to be seen so the targets for this pair remain on the downside for now.
I was expecting to see some support at the 50 SMA (yellow). But, nope, it was pierced, like a knife through butter. The stochastic indicator is now oversold, but with such negative market sentiment towards this pair, I don't think that stochastics will have much impact on EUR/USD traders.
That is until we reach some stronger level further below. The first level comes at 1.17 which used to be resistance back in the summer of 2015. I was on holiday back then at the seashore, keeping an eye on the market, so I remember it very well. It was a violent surge of more than 300 pips a day. Now, it is expected to turn into support, but we'll see if it does.
The second level comes at 1.16. The area around that level provided resistance in 2016, so that is the second target for sellers. The ultimate target is 1.15, obviously, give or take a couple of dozen pips. By that time, stochastic will be severely oversold and the downtrend will need a refreshing before the next leg down. Right now, we don't know if this is a trend reversal or just a retrace of the larger downtrend, but for now, these are the targets for sellers.