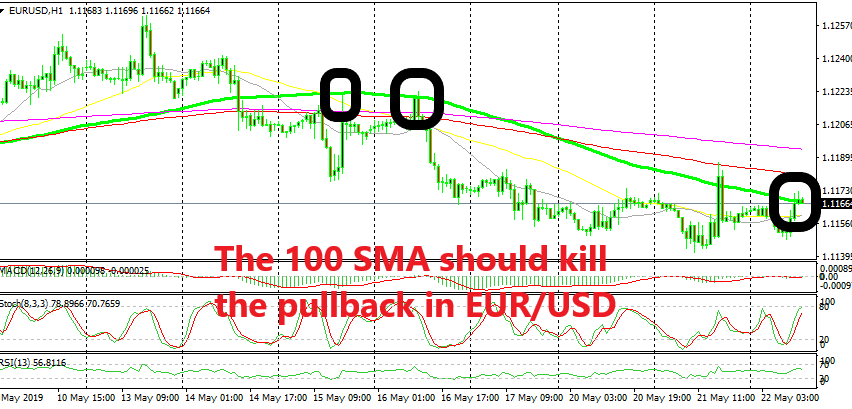 EUR/USD Trading at the 100 SMA Again. Time to Sell?
EUR/USD has been on a bearish trend for more than a year and the last bearish wave started on Monday last week. This last wave has been quite slow though as markets remain pretty cautious, but the pressure is still on the downside as the trade war continues to precipitate.
During this last bearish wave, the 100 simple MA (green) has turned into resistance once the price moved below it. This moving average provided support twice at the middle of last week, while yesterday the 100 smooth moving average (red) provided resistance after EUR/USD jumped 40 pips higher when Theresa May's spokesman said that she would bring new proposals to the British Parliament last afternoon. By the way, what did she propose? Because I didn't follow her.
That was something positive for Brexit since we have been heading towards a dead end on this issue, so it brought back hopes that this might end up positively and not leave the EU without a deal for Britain. That scenario would be positive for it jumped 120 pips higher after that.
EUR/USD also jumped since this would be positive for the Eurozone as well, but the 100 smooth MA ended the rally. This morning we are seeing another retrace higher but it seems that this time the pullback will end at the 100 simple MA (green). Stochastic is overbought now, the 100 SMA is providing resistance, and the previous candlestick has closed as an upside-down hammer which is a reversing signal.
So, the retrace is complete and now EUR/USD should turn bearish. This is a good opportunity to go short, but we are too exposed on our other trades, so it will be your decision to sell EUR/USD if you want.