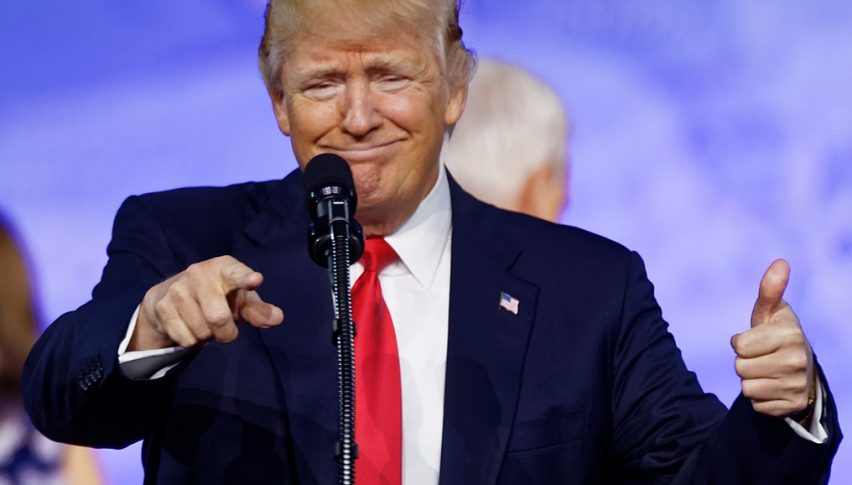 Daily Brief, Nov 12: Economic Events Outlook – Trump Speech in Highlights
Posted Tuesday, November 12, 2019 by
Arslan Butt
• 2 min read
Good morning, traders.
The greenback plunged, and global equity markets traded bearishly on Monday after the US President Donald Trump's comments over the weekend ripped traders' confidence that Washington and Beijing would soon seize a deal to settle their debilitating trade war.
The risk-off sentiment soared after the US President Donald Trump told journalists that the negotiations had moved more gently than he would have wanted, but China needed a deal more than he did.
The president further stated there had been incorrect broadcasting about US's readiness to elevate tariffs on Chinese products. Administrators from China and the United States has announced last week that the two nations had agreed to reverse tariffs previously in place in a "phase one" trade agreement.
Today, the US President Trump's speech will be in focus to have further clues on the US-China trade deal and tariff waiver, if any.
German ZEW Economic Sentiment – 10:00 GMT 
The ZEW (Zentrum fur Europaische Wirtschaftsforschung) is due to release the German economic sentiment data with a forecast of -13.2 vs. -22.8.
First of all, we need to understand what this figure is all about. Basically, it's a survey of about 300 German institutional investors and analysts, which asks respondents to rate the relative 6-month economic outlook for Germany. Previously, their economic sentiment fell as low as -44.1, which is insane, showing chances of a recession in Germany.
But it looks like the accommodative monetary policy from the ECB has started supporting the weakening economic sentiment. This figure may not be good enough for traders, but it's indicating that a good time is near. The Euro is likely to stay supported today.
U.K. Labor Market Report – 9:30 GMT
Average Earnings Index 3m/y – It's a leading indicator of consumer inflation and shows a change in price for businesses and the government pay for labor, including bonuses. When businesses pay more for labor, the higher costs are usually passed on to the consumer, which leads to inflation.
The UK's Office for National Statistics reported 3.8% average earnings in October, whereas economists are expecting it to remain the same at 3.8% this month.
Claimant Count Change – It's one of the most eyed economic data as it shows a change in the number of people claiming unemployment-related benefits during the previous month.
The Claimant Count Change for May revealed an extension of 24.7k, but May's figures seem to get better as economists are expecting jobless claims of 12.3k, which is way lower than 24.7k. It means fewer people have claimed to be unemployed, which may also improve the unemployment rate and, ultimately, the British Pound.
President Trump Speaks – 17:00 GMT
A day before, the US President Donald Trump delivered a historical lesson at the New York City Veterans Day Parade, in his hometown.
"To each veteran of the war, the glory of your deeds will only grow greater with time," Mr. Trump said. "This city is graced with your presence. This nation is forever in your debt, and we thank you all."
Today at 17:00 GMT, President Trump is due to deliver brief remarks at the Economic Club of New York. He frequently speaks on a broad range of subjects – only speeches that might have a direct market impact are listed on the calendar. Therefore, investors will be paying close attention to capture any big movement in the market.
Good luck fellas, and keep following FX Leaders Economic Calder for live market coverage and forex signals page for fresh trade ideas.