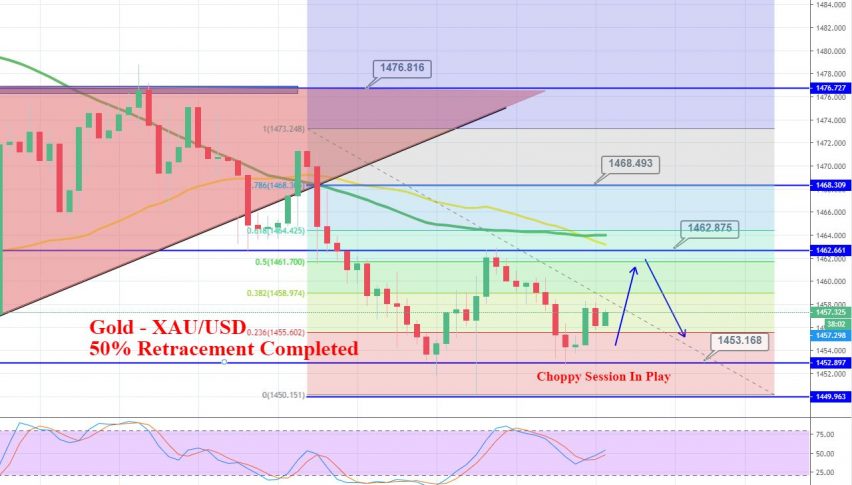 Everything You Need to Know About Gold on Friday
Posted Friday, November 29, 2019 by
Arslan Butt
• 2 min read
Happy Friday, fellas.
Gold prices closed at $14555.77 after placing a high of $1458.290 and a low of $1454.190. Overall the trend of gold remained slight bullish.
Gold prices on Thursday recovered some of its losses on Thursday amid diminished hopes on US-China trade deal completion after the US President signed the legislation in support of Hong Kong.
On Wednesday, President Donald Trump signed the Hong Kong Human Rights & Democracy Act into law and gave the US government's support to the protestors of Hong Kong. This law gives the United States the ability to place sanctions and diplomatic actions on Chinese officials who will violate human rights in Hong Kong.
According to the law, the state department is required to annually review whether Hong Kong retains enough autonomy to justify favorable US trading terms. Trump also signed another bill that restricts the export of tear gas and rubber bullets to Hong Kong police.
China has twice warned that it would retaliate with strong countermeasures if Trump signed the bill into law. In response to Trump's approval of legislation of the Hong Kong Human Rights & Democracy Act, Chinese foreign ministry summoned the US ambassador on Thursday and urged Washington to stop its "naked interference" in China's internal matters to avoid further damage to mutual relations.
China's government released a statement hours after the signing of the bill into law, which told the US not to underestimate China's capabilities to protect its safety, sovereignty, growth, and rights.
The doubts about Sino-US trade deal completion, which was reportedly close to being signed, emerged after this news. Trump had said earlier this week that phase-one deal with China was in the "final throes" and Chinese Commerce Ministry said that Vice Premier Liu He held telephonic conversations related to phase-one core issues with US trade representative Robert Lighthizer and US Treasury Secretary Steven Mnuchin twice this week. The stocks of Hong Kong and China were lower on Thursday while Gold prices moved slightly higher.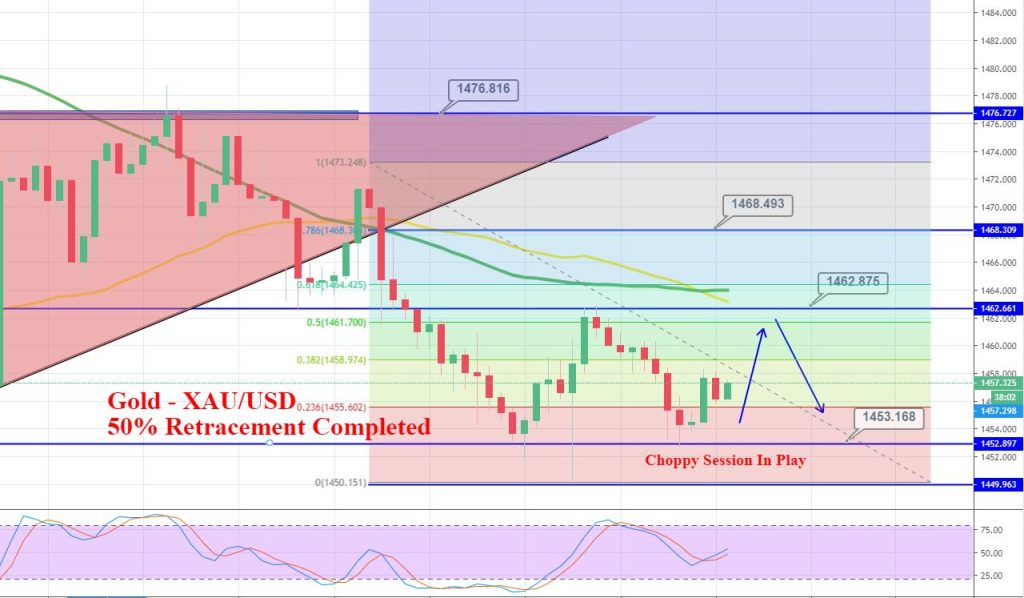 GOLD – XAU/USD – Technical Levels
Support Resistance
1457.83 1459.26
1457.15 1460.01
1455.72 1461.44
Key Trading Level: 1458.58
Choppy trading in gold continues as the precious metal still maintains the wide range of 1,464 – 1,452. Due to Thanksgiving holiday today, we may not see much moves in the market. We can try to cover above 1,452 as below this gold can find next support around 1,447. The overall trend is likely to be mixed today.
Good luck!