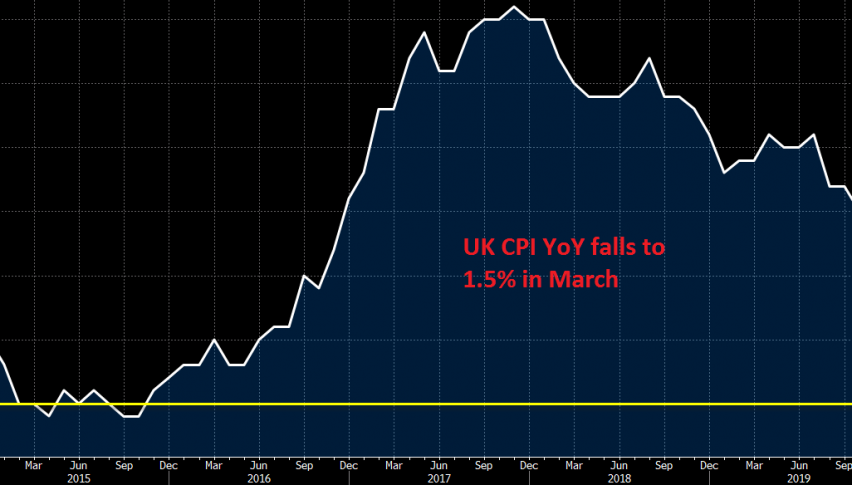 Inflation Cooled Off in March, But it Wasn't Disastrous
The inflation report for March has been released from the UK. I was expecting inflation to weaken considerably in Q1, given that Crude Oil crashed down, while the coronavirus shutdown is having a big negative impact on the economy. CPI inflation did weaken, but not by much. Below is the CPI inflation report:
March CPI +1.5% vs +1.5% y/y expected
February YoY CPI Ctood at +1.7%
Core CPI +1.6% vs +1.6% y/y expected
February core CPI stood at +1.7%
As expected, inflation pressures were a bit weaker last month, compared to February, amid the drop in energy prices in recent weeks. The readings meet expectations but amid the virus outbreak and fall in oil, expect price pressures to remain weak in the coming months across the globe, not just in the UK.
Although, the big crash in Oil came in March, so it will take some time to translate into lower prices in the UK. On the other hand, the prices of some products have increased during this time. Anyway, below are some other details, as producer price and retail price figures are also released:
PPI output -0.2% vs -0.3% m/m expected
PPI output +0.3% vs +0.1% y/y expected
PPI input -3.6% vs -4.0% m/m expected
PPI input -2.9% vs -3.0% y/y expected
RPI +0.2% vs -0.2% m/m expected
RPI +2.6% vs +2.3% y/y expected