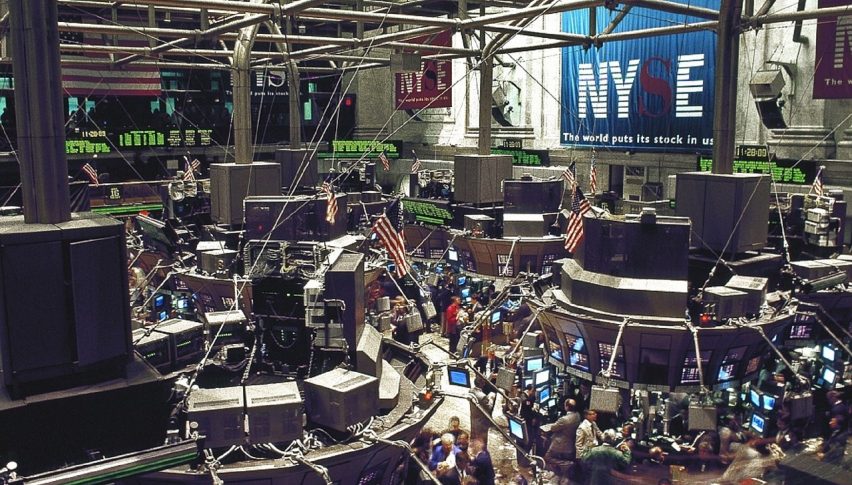 List of US Companies Releasing Earnings (EPS) Today
On Thursday evening, the stock futures opened the overnight session, pointing to a weaker open for the first session in May, despite gains from technology majors.
The earnings results of the heaviest companies in the major US stock indexes were mixed after the market on Thursday. Amazon (AMZN) posted first-quarter sales, up 26 percent year-on-year, but warned that projected coronavirus costs in operating income.
| | | |
| --- | --- | --- |
| Companies | EPS Forecast | Revenue Forecast |
| AbbVie (ABBV) | 2.25 | 8.33B |
| Aceto (ACETQ) | — | — |
| Achaogen (AKAOQ) | -0.37 | 6.36M |
| AdvanSix (ASIX) | 0.21 | 301.85M |
| Algoma Central Corporation (ALC) | -0.55 | 76M |
| Aon (AON) | 3.66 | 3.31B |
| Apollo Global Management A (APO) | 0.48 | 418.22M |
| Arbor (ABR) | 0.26 | 52.37M |
| Asia Pacific Wire & Cable (APWC) | — | — |
| Astra Agro Lestari TBK (AAGRY) | — | — |
| Atco (ACOy) | 0.96 | 1.29B |
| Atco (ACOx) | 0.96 | 1.29B |
| Balchem (BCPC) | 0.67 | 169.87M |
| Bel Fuse A (BELFA) | -0.39 | 111.75M |
| Bel Fuse B (BELFB) | -0.39 | 111.75M |
| Berry Global (BERY) | 1.07 | 3.06B |
| Biosig Tech (BSGM) | -0.23 | 700K |
| Briggs&Stratton (BGG) | 0.07 | 535.96M |
| Cameco (CCO) | -0.02 | 303.26M |
| Cameco (CCJ) | -0.02 | 220.61M |
| Cameco (CCO) | -0.02 | 303.26M |
| Canadian Utilities (CUx) | 0.66 | 1.06B |
| Canadian Utilities (CU) | 0.66 | 1.06B |
| Cboe Global (CBOE) | 1.54 | 349.97M |
| Centerra Gold (CG) | 0.24 | 331.27M |
| Charter Communications (CHTR) | 2.6 | 11.78B |
| Chevron (CVX) | 0.65 | 29.75B |
| Chicago Rivet&Machine (CVR) | — | — |
| China Biologic (CBPO) | 1.25 | — |
| Clorox (CLX) | 1.68 | 1.71B |
| Colgate-Palmolive (CL) | 0.73 | 4.07B |
| Cryoport Inc (CYRX) | -0.05 | 9.76M |
| Dentsply (XRAY) | 0.38 | 878.95M |
| Diamondrock Hospitality (DRH) | -0.03 | 183.3M |
| Dorel Industries (DIIa) | 0.21 | 803.24M |
| Energy Fuels Inc (UUUU) | -0.06 | 1.01M |
| Estee Lauder (EL) | 0.77 | 3.06B |
| Exxon Mobil (XOM) | 0.04 | 54.81B |
| Foraco International SA (FAR) | — | — |
| Fortune Minerals (FT) | — | — |
| GlycoMimetics (GLYC) | -0.34 | 31.5M |
| Gogo Inc (GOGO) | -0.34 | 203.27M |
| Hachijuni Bank (HACBY) | — | — |
| Hill-Rom (HRC) | 1.15 | 701.72M |
| Honeywell (HONH) | 1.96 | 8.6B |
| Honeywell (HON) | 1.96 | 8.6B |
| Huntsman (HUN) | 0.19 | 1.53B |
| ITT (ITT) | 0.77 | 636.24M |
| ITT Educational Services (ESINQ) | — | — |
| ImmunoGen (IMGN) | -0.15 | 14.79M |
| Imperial Oil (IMO) | -0.01 | 7.23B |
| Imperial Oil (IMO) | -0.06 | 4.84B |
| Imperial Oil (IMO) | -0.01 | 7.23B |
| International Tower Hill (THM) | — | — |
| International Tower Hill (ITH) | — | — |
| JSH (JDSB) | — | — |
| Johnson Controls (JCI) | 0.37 | 5.54B |
| Johnson Controls (0Y7S) | 0.37 | 5.54B |
| KVH Industries (KVHI) | -0.29 | 37.44M |
| Kayne Anderson MLP Invest Closed (KYN) | — | — |
| LXRandCo (LXR) | — | — |
| LyondellBasell Industries (LYB) | 1.56 | 7.74B |
| MSG Networks Inc (MSGN) | 0.78 | 191.83M |
| Magellan (MMP) | 1.03 | 676.1M |
| Mechanical Technolgy (MKTY) | — | — |
| Mitsui & Company (MITSY) | 6.9 | 18.72B |
| Mobile Mini (MINI) | 0.42 | 145.69M |
| Moneygram (MGI) | -0.04 | 296.32M |
| Newell Brands (NWL) | 0.06 | 1.92B |
| OFS Capital Corp (OFS) | 0.35 | 14.47M |
| Office Properties (OPI) | -0.1 | 157.08M |
| Olympic Steel (ZEUS) | 0.11 | 386.45M |
| Oncolytics Biotech (ONCY) | -0.16 | — |
| Oncolytics Biotech (ONC) | -0.22 | — |
| PDC Energy (PDCE) | 0.02 | 375.51M |
| Pacific Gas&Electric (PCG) | 1.03 | 5.09B |
| Phillips 66 (PSX) | 0.7 | 20.21B |
| Phillips 66 Partners LP (PSXP) | 0.93 | 405.35M |
| Piper Jaffray (PIPR) | 1.13 | 233.7M |
| Preformed Line (PLPC) | — | — |
| Pulmatrix (PULM) | -0.22 | — |
| RBS PLC (RBS) | 0.01 | 3.01B |
| Razor Energy (RZE) | — | — |
| Restaurant Brands Int (QSR) | 0.52 | 1.25B |
| Restaurant Brands Int (QSR) | 0.72 | 1.74B |
| Restaurant Brands Int (QSR) | 0.72 | 1.74B |
| Royal Bank Scotland (RBS) | 0.03 | 3.53B |
| Ruth's Hospitality (RUTH) | 0.35 | 121.77M |
| SandRidge Permian Trust (PER) | — | — |
| Seelos Therapeutics (SEEL) | -0.28 | — |
| Silvrcst As (SAMG) | 0.38 | 29.21M |
| Sndridg Mis (SDT) | — | — |
| Supremex Inc. (SXP) | 0.1 | 54.7M |
| TC Energy (TRP) | 1.07 | 3.61B |
| TC Energy (TRP) | 0.76 | 2.58B |
| Terex (TEX) | -0.05 | 861.69M |
| Timken (TKR) | 1.07 | 918.28M |
| US Silica (SLCA) | -0.43 | 321.6M |
| Ur Energy (URG) | 0.01 | 1.40M |
| Virtus (VRTS) | 3.1 | 119.51M |
| W P Carey Inc (WPC) | 0.53 | 295.03M |
| Weyerhaeuser (WY) | 0.13 | 1.68B |
| WillScot A (WSC) | 0.09 | 258.86M |
| WisdomTree (WETF) | 0.05 | 65.45M |
Safe havens such as Gold and the JPY have been taking advantage of the financial troubles with the ban king system and lower FED rate odds
2 weeks ago