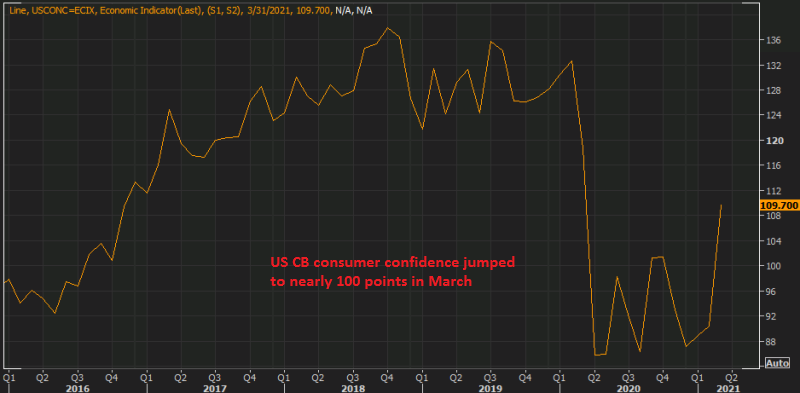 Consumer Confidence Jumps Higher in the US
The consumer confidence turned negative last year during the lock-downs in the US, as it did in most other places. But, it has been improving since then, unlike in Europe where the consumer and investor confidence remained negative until recently.
Today, the US consumer confidence report posted a major jump for this month, which shows that the economic situation in the US is getting even better. This should keep the USD bullish for the coming sessions I assume.
US March consumer confidence data from The Conference Board
March consumer confidence 109.7 points vs 96.9 expected
February consumer confidence was 91.3 points
Expectations 109.6 points vs 90.9 prior
Present situation 110.0 points vs 89.6 prior
Jobs hard-to-get 18.5 points vs 22.4 prior
This survey was at 132 in the month before the pandemic — still a long ways to go — but this is a big beat. Politics plays a big part in this survey so it's not a great overall reading on the economy but the stimulus checks and the vaccine rollout are a big help. In some other countries, confidence surveys are at record highs and I think we could be headed there in the US as well. Sentiment is going to be rosy this summer.