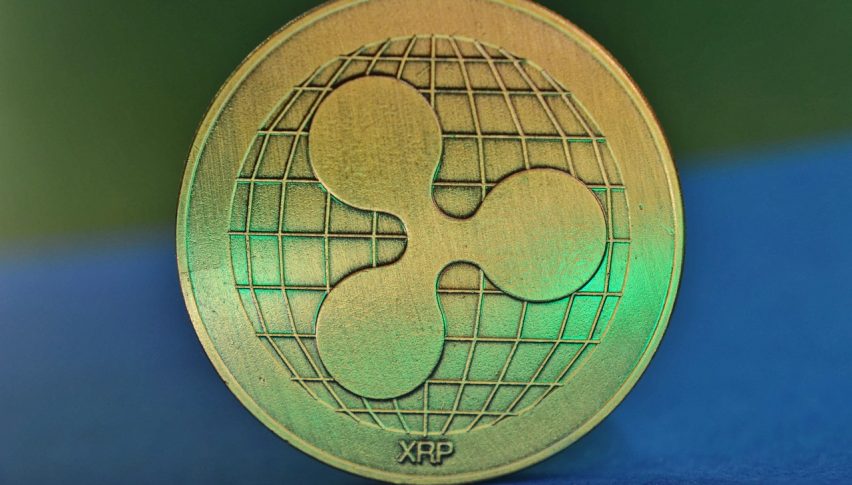 Cryptos On The March As USD Retreats
It has been a solid day for cryptos as the USD has fallen precipitously. Over the past 24-hours, Bitcoin BTC (+1.65%), Ripple XRP (+2.35%), and Ethereum ETH (+4.80%) are trending higher. For now, it looks like the USD/crypto negative correlation is back. The EUR/USD (+0.35%), USD/CAD (-1.28%), and USD/CHF (-0.42%) are all going against the Greenback as forex players look toward this week's Jackson Hole Symposium. 
Over the weekend, reports surfaced that the yearly conference in Jackson Hole, Wyoming would be held virtually. In respect of the Delta variant, the meeting was moved to an online capacity. According to Kansas City Fed President Esther George "the safety of our guests and the Teton County community is our priority." On a scheduling note, Fed Chairman Jerome Powell will give his speech via webcast Friday morning.
In other news, last week brought buzz of Twitter CEO Jack Dorsey entering the realm of crypto mining. Dorsey endorsed Compass Mining in a brief tweet: "I'm trying mining with @compass_mining too…" Dorsey's comments are more evidence on just how wide the scope of institutional participation really is in the cryptosphere. There's no doubt — big money is deep into cryptocurrencies.
For cryptos, a fading dollar is good news. The major coins are beginning to post formidable comebacks from last May's debacle.
Cryptos On The March, Ripple Drives Toward $1.50
It has been a positive open to the week for Ripple (XRP/USD). Prices are holding firm near $1.25 and a bullish bias is warranted.
Bottom Line: If we see a pullback in cryptos and Ripple, an opportunity to go long may set up from the 38% Weekly Fibonacci Retracement. As long as 1.3499 is the high water mark, I'll have buy orders queued up from $1.07. With an initial stop loss at $0.74, this trade produces $0.25 (23.3%) on a slightly sub-1:1 risk vs reward management plan.