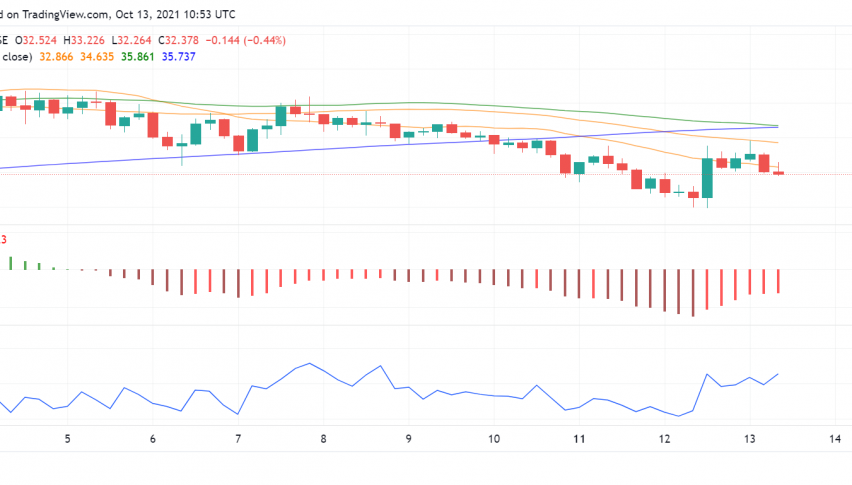 Cronos Mainnet to Make Cosmos (ATOM) More Appealing to DeFi Projects
Early on Wednesday, Cosmos (ATOM) is trading somewhat bearish after a sharp spike a few hours ago and is showing signs of more bullish action coming up in the near term as DeFi adoption grows and its ecosystem sees an uptick in adoption among apps in this space. At the time of writing, ATOM/USD is trading at around $32.37.
All You Need to Know About Cronos Mainnet Launch
One of the most awaited events is the launch of Cronos Mainnet with smart contracts and EVM capabilities on the Cosmos ecosystem, scheduled to take place on 8 November. EVM chain Cronos will allow developers to port their Ethereum-based dApps to other compatible blockchains and vice versa. It leverages Cosmos's IBC protocol for interoperability and bridging to Crypto.org Chain as well.
The Cronos mainnet launch will further bolster Cosmos's appeal among DeFi projects, giving it more power to pull away projects from market leader Ethereum as it offers higher levels of efficiency and scalability for decentralized apps. The timing is just right, especially with institutional interest in DeFi on the rise and experts maintaining that interoperability will be essential for DeFi ecosystems to survive and thrive in the face of stiff competition and constant innovation.
Cosmos's Adoption on the Rise
Meanwhile, Cosmos could see its adoption rise even further as more blockchains develop technologies to connect to its ecosystem. Earlier this week, Astar/Shiden Network announced that it had accepted a grant proposal from Octopus Network to create a bridge supporting the IBC protocol to enable interoperability between Cosmos and its Substrate-based blockchain network.
Another interesting fundamental development that can support ATOM's price is the upcoming launch of a sovereign blockchain Dig by DeFi For You – a crypto P2P lending platform, designed to implement tokenization and governance in the real estate space. Dig will leverage Cosmos IBC protocol, acting as a parent blockchain to suppor multiple geo-fenced sub-chains each of which will represent a different jurisdiction and offer compliance with local regulations. The tokenization of real estate can allow transparent and instant transfer of land ownership but has failed to take off due to the challenge of different regulations around the world. In addition, Dig will also offer users the optional for fractional ownership of real estate assets.
ATOM/USD Technical Analysis
According to popular crypto trader and analyst who goes under the pseudonym Inmortal, Cosmos remains on course for a 200% rally targeting the key $100 mark. He recommends that investors buy into ATOM during dips under the $30 level in the meantime when the price action is weak.
On the 4-hour chart of ATOM/USD, most moving averages are presenting a bearish bias at the moment. Although, the leading technical indicators MACD and momentum suggest some buying interest as well.
Cosmos's price is sitting right in between the immediate support at $30.09 and the pivot point at $34.49. An uptick in selling pressure can see the support break down, in which case ATOM could head below $30 to test the next support at $27.76.