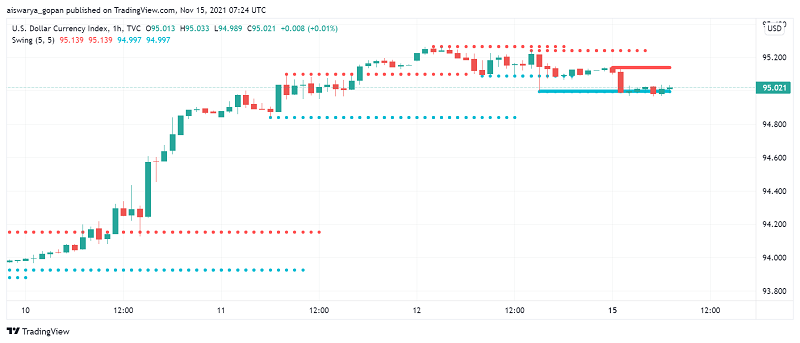 US Dollar Maintains Its Strength as Traders Await Retail Sales Figures
At the start of a brand new trading week, the US dollar is holding close to the highest levels seen in 16 months as investors look for confirmation on the Fed's response to soaring inflation in the country. At the time of writing, the US dollar index DXY is trading at around 95.02.
The dollar index, which measures the performance of the currency against other leading peers, continues to trade just under a peak of 95.266 touched in the previous session. Analysts have previously forecast the Fed to step in and respond to containing inflation in case the DXY soars past the key 95 level, contributing to rising expectations in markets for the US central bank to advance its rate hike plans to as soon as mid-2022.
Later this week, all eyes will be on retail sales coming out of the US which could drive considerable volatility in the greenback. The retail sales data will especially be in focus after the release of a disappointing consumer confidence report in the previous session. Consumer confidence dropped to the lowest levels seen in a decade during November on the back of surging inflation, a key worry for an economy that is powered by consumer consumption.
Meanwhile, EUR/USD – the most popularly traded currency pair, continues to trade weakly, weighed down by the strengthening US dollar. In addition, the Euro has been suffering considerable weakness in recent sessions ever since ECB policymakers hinted that the central bank could stay on course with its dovish outlook for longer amid worries that the Eurozone's economic recovery was slowing down.
GBP/USD has posted somewhat of a recovery since last week, reclaiming the 1.34 mark after falling to the lowest levels seen so far this year. Commodity currency AUD has also been holding on to its gains from the previous session against the US dollar, rebounding after touching a one-month low late last week.