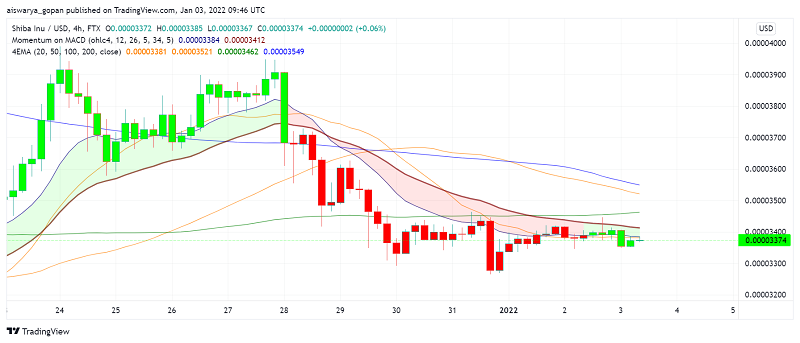 Shiba Inu (SHIB) Price Analysis: Will DOGGY DAO Announcement Bring Buyers Around?
Shiba Inu (SHIB) seems to be starting the new year on a somewhat weak footing, displaying signs of bearish action into Monday but managing to hold above the key $0.000030 level even after several exciting developments before the close of last year. At the time of writing, SHIB/USD is trading at around $0.0000337.
The second most popular memecoin is all set to launch its very own DAO, DOGGY DAO, in two distinct phases this year. With an aim to achieve true decentralization and take away control from its developers, the governance protocol is all set to bring about higher levels of growth and innovation within the Shiba Inu ecosystem.
More Information on Shiba Inu's DOGGY DAO
The beta version of the first phase of DOGGY DAO, DAO 1, has gone live and will empower the SHIB community to have a say on which crypto projects and pairs will be listed on the ShibaSwap platform. BONE holders will also have a say on how the rewards will be distributed among the community. The developers call this the first step in letting Shiba Inu's DEX grow even as it benefits the memecoin's loyal community, the Shib Army.
To participate in the voting process, community members will have to stake their holdings in BONE to hold tBONE into projects of their choice towards getting them listed on ShibaSwap. The move will also allow users to have complete control over the rewarded Liquidity Pools (LPs).
In addition to the announcement of DOGGY DAO, the Shiba Inu coin could also enjoy support after analysis reveals how the top Ethereum whales hold an average of 52 billion SHIB, making it the second biggest coin held by the largest holders. According to WhaleStats, holdings in SHIB account for the largest market share based on USD value, followed by the FTX Token and USDT.
SHIB/USD Technical Analysis
On the H4 chart of SHIB/USD, we find a a bearish bias among moving averages. Although, the popular technical indicators MACD and momentum point to the presence of buyers in the market as well.
Shiba Inu's price remains under the pivot point at $0.000035 but a comfortable distance from $0.000028 for now. We need to see if more buyers enter the market later today as this could see SHIB price rise above the PP.