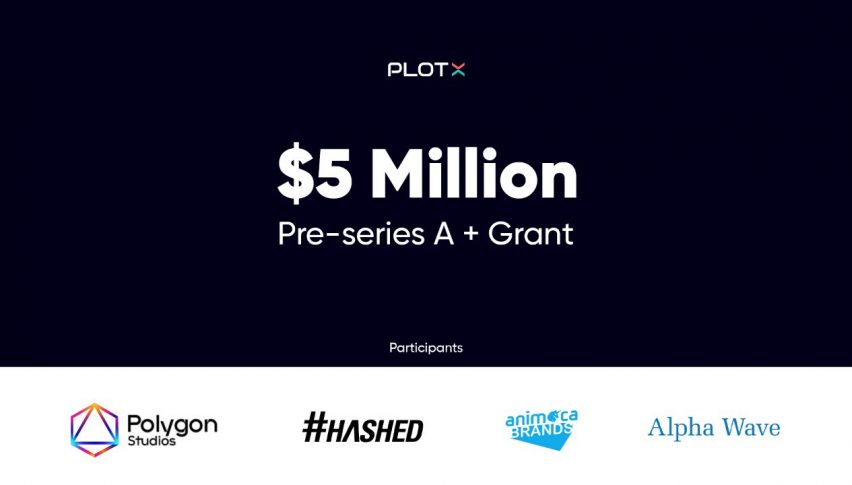 PlotX Secures $5 Million Funding Grant From Polygon, Hashed To Expand P2E Ecosystem; Introduces Staking Program
Cross-chain prediction market protocol PlotX has successfully closed its pre-Series A funding round and grant by raising $5 million. The investment round, led by Polygon Studios and Hashed, will enable one of the fastest growing GameFi ecosystems on the Polygon network to expand its global outreach efforts at a faster pace. 
Other notable investors that participated in PlotX's fundraising round include Animoca Brands and Alpha Wave Global as well as angel investors Sandeep Nailwal and Alan Howard. Nailwal is the co-founder of Polygon while Howard has co-founded Brevan Howard Asset Management. 
According to Co-founder of PlotX, Ish Goel, "We are thrilled about the infusion of this new capital as grant + funding. Polygon is the torchbearer of scalable L2 solutions around Ethereum and we're humbled by the support we have received from their community as well as others. It's still Day 1 at PlotX and we're just getting started with our vision of building the most accessible & sustainable GameFi ecosystem in the world."
Co-founder of Polygon, Sandeep Nailwal, remarks, "PlotX has found the holy grail of Product-Market-Fit. I've seen their journey in the crypto ecosystem since 2017 and it is phenomenal to see the growth of PlotX. We are rooting for PlotX to be India's Axie Infinity, powered by Polygon, and are very excited to partner with the team!"
More on PlotX's Offerings
The team behind PlotX calls themselves as 'X'-2-Earn GameFi offering on Polygon, Ethereum's leading Layer 2 scaling solution. The dApp provides a skill-based trivia game on which users can predict the outcome of real-world events to generate rewards on an hourly basis. What makes PlotX unique in the world of GameFi is how it leverages its on-chain treasury to sponsor rewards, developing a sustainable P2E ecosystem even as it enables users around the world, particularly in emerging economies, to earn cryptocurrencies. 
In the coming months, the dApp has plans to launch its P2E version of the current Predict2Win game, monetizing players for their time spent on the game. Additional upcoming core gameplay features which will be rolled out also include PvP battles, individual avatars, NFTs with special features, leaderboards, user level-up systems, daily/weekly quests to keep users engaged, and much more. 
In addition to offering a brand new experience which will make crypto price prediction more fun and entertaining for users, PlotX also has plans to launch its very own staking program. Participants who stake their crypto holdings can earn rewards in the form of bPLOT and MATIC tokens, with the dApp setting aside a pool of up to $100k as staking rewards.