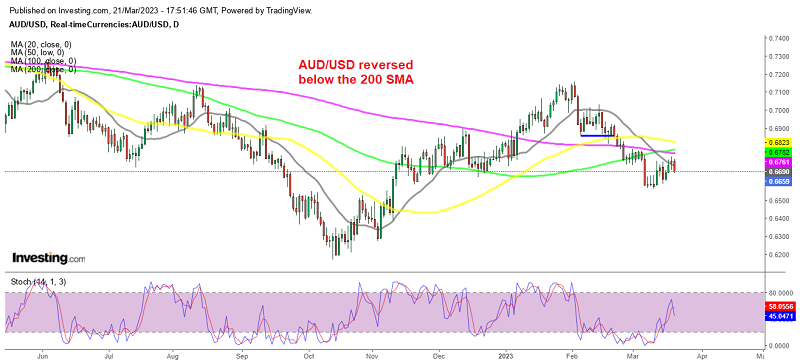 AUD/USD Reverses Lower, on Softer RBA Minutes
AUD/USD has reversed lower today after failing to push above the 200 daily SMA (purple), after the Reserve Bank of Australia minutes which were released this morning sounded more dovish than expected. It is possible that the recent banking turmoil has given the RBA the perfect excuse to pause rate hikes. Even though the events in the US and Europe are not expected to have significant repercussions on the Australian financial system, the RBA may still choose to adopt a wait-and-see approach. This is reflected in the current OIS pricing, which suggests a 96% probability that the RBA will pause the tightening cycle in next month's meeting.
The weakness in the AUD and NZD may be a result of this development, despite the better risk environment. The AUD/USD was encountering some short-term resistance around 0.6730-40, jut below the 200 SMA and is now coming down with more conviction after yesterday's doji candlestick, which is a bearish reversing signal.
RBA Meeting Minutes
The board has agreed to reconsider the case for pausing at the April meeting due to restrictive policies and an uncertain outlook.
They believe that at some point, it would be appropriate to hold rates steady to reassess the economy's outlook.
The board is closely watching data on jobs, inflation, retail sales, business surveys, and global developments.
Further tightening of monetary policy is likely required to bring inflation down, as it is currently too high, the labor market is tight, and business surveys are solid. However, sluggish productivity could lead to more persistent inflation. The board noted that Australian interest rates are below several other countries, which could affect the Australian dollar.
Recent data has been softer than expected, and sluggish growth appears to have extended into Q2.
Despite this, the board feels that it is prudent not to place too much weight on one period's data.
The board also noted the financial pressure on some borrowers, and consumption remains a key uncertainty.