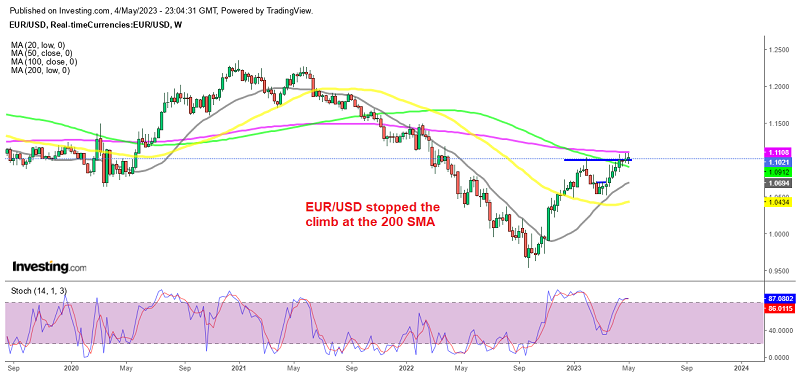 ECB Leaves EUR/USD With A Bearish Reversing Chart Setup
On a Friday, there was quite some market turbulence for the Euro, after the European Central Bank's (ECB) meeting. Before the ECB meeting, there were some speculations that they could raise the refinancing rate by 50 bps, but they ended up opting for a 25 bpshike instead, a reduction in the asset purchase program reinvestment in July, and some indication of further increases in the future, with some members seeing 2–3 more hikes ahead.
This should have been bullish for the Euro, but the market reacted negatively to the decision, interpreting it as dovish. During the press conference, there was some volatility as ECB President Lagarde made some hawkish remarks as well. However, ultimately the market sees the ECB as running out of time for further rate hikes, leading to a decline in the Euro across the board.
Holzmann, who didn't have a vote at the meeting, was the lone holdout, while policymakers reached deal on smaller hike in return for guidance for more hikes ahead and an APP wind down. So, it seems like markets weren't satisfied with this and turned bearish on the Euro.
Press Conference from the ECB President Christine Lagarde
The inflation outlook continues to be too high and too long
Incoming information broadly supports medium-term outlook that we formed at our previous meeting
We will continue to follow a data-dependent approach
Private domestic demand, especially consumption, is likely to remain weak
Business and consumer confidence have improved but are lower than in pre-war
The manufacturing sector is working through a backlog of orders but prospects worsening
Government should roll back energy support measures promptly as the energy crisis fades
Price pressures remain strong

Inflation

 is still being pushed up but the gradual pass through of previous energy price rises
Lagarde no longer says growth risks are to the downside
We are not pausing, that's very clear
We know that we have more ground to cover
25 bps hike had almost unanimous support
All governors determined to tame 

inflation

Mood was very focused and attentive to all data
We have covered a lot of ground… we are continuing this hiking process
This is a journey, we have not arrived yet
Some governors suggested 50 bps was appropriate, some said 25 bps but none said no change
There was a very strong consensus around the path we chose
Reports from corporates regarding borrowing suggest to us that rates are restrictive
The market is pricing in 43 bps of hiking in September and then coming down afterward.