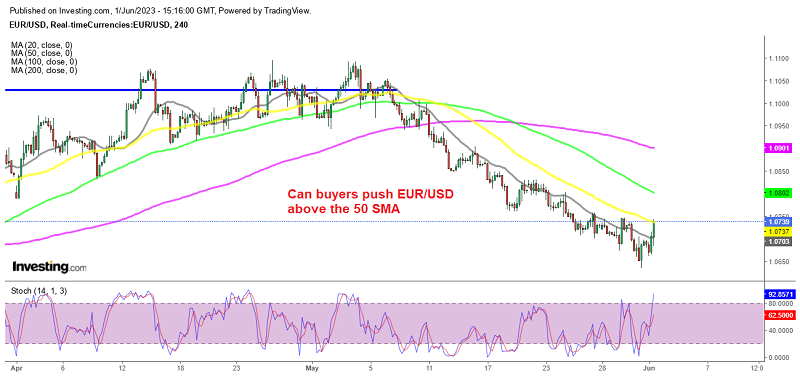 EUR/USD Challenging the Downtrend and Testing the 50 SMA
EUR/USD has been bearish for nearly a month, declining from below 1.11 and falling to 1.0630s. Although today this pair made a total reversal and increased in value, with the exchange rate at 1.0750 at the moment, a 0.20% rise. Yesterday, the EUR/USD pair reached a low of 1.0635, the lowest level observed since March 20.
The signs of a slowing inflation in the Eurozone have been getting stronger, as increased interest rates have dampened economic activity. Germany, Spain and France reported significant decreases in CPI for April this week, with Germany, experiencing a drop from 7.6% in April to 6.3% in May, which is lower than the expected 6.8%. In the Eurozone as a whole, inflation declined from 7% to 6.1%, below the anticipated 6.3%. This easing of inflation can be attributed to a sharp decrease in energy prices, accompanied by a drop in food prices.
Although the mot importnt is the decline in Core Eurozone CPI, which fell to 5.3% from 5.6%, below expectations of 5.5%. The European Central Bank (ECB) primarily focuses on the core inflation rate, which excludes energy and food prices. The decrease in core inflation in April will likely strengthen the case for the ECB to pause its rate hikes, possibly as early as the July meeting, although the ECB has maintained its hawkish rhetoric.
This has returned the demand for the USD, with
EUR/USD
falling to a new low yesterday. Moving averages have been acting as resistance at the top, with the 20 SMA (gray) doing so on the H4 chart, which shows that the pace of the decline has been strong. Although, today's US inflation indicators for May looked weaker and the USD has retreated around 100 pips off the highs, while EUR/USD is testing the 50 SMA (yellow).
US May Employment Data from ADP
ADP May employment +278K vs +170K expected
PriorADP employment was +296K (revised to +291K)
Details:
Small (less than 50 employees) +116K vs +121K prior
Medium firms (500 – 499) +112K vs +122K prior
Large (greater than 499 employees) +106K vs +47K prior
Job stayers 6.5% vs 6.7%
Job changers 12.1% vs 13.2%
The previous number was the best since June 2022 and this is only a slight dip. The US dollar is stronger across the board but there's a small silver lining for the FED here as the report says that wage-driven inflation may be less of a concern.
"This is the second month we've seen a full percentage point decline in pay growth for job changers," said ADP's chief economist. "Pay growth is slowing substantially, and wage-driven inflation may be less of a concern for the economy despite robust hiring."