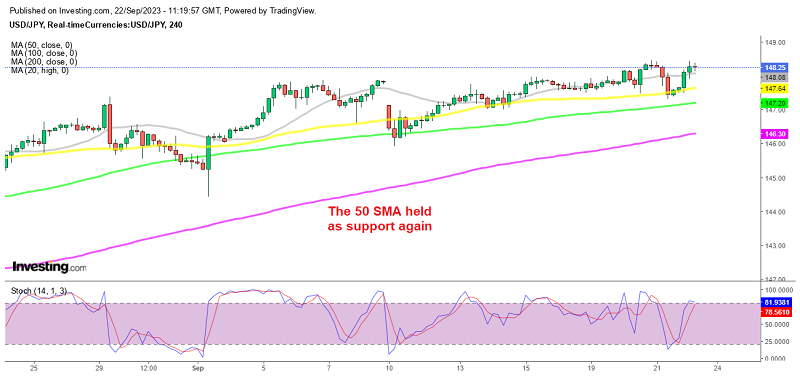 USD/JPY Feeling Revived After the Bank of Japan Meeting
USD/JPY saw a decent retreat from its year-to-date high on Thursday, which was established at about 148.45 following the hawkish FOMC meeting the day before. After the dovish conclusions of the BOE and SNB meetings and some mixed US numbers, this pair gave up all the gains it had made the day before, throughout the European and US trading sessions, falling to 147.30s as we approached the Bank of Japan meeting today.
Expectations were broad that rates wouldn't change, but recent comments from BoJ governor Kazuo Ueda that the central bank may stop its negative interest rate policy by the end of 2023 were keeping traders on the lookout for any additional post-decision commentary, attracting the attention of the investors, hence seeing a surge in the JPY yesterday, which sent JPY pairs tumbling lower.
In an effort to boost inflation and growth, the BoJ has held bond yields in negative territory while other major central banks have raised rates to multi-year high levels. This has pushed the Japanese Yen to be utilized as a financing currency against a variety of other high-yielding currencies, such as the USD, South African Rand and the Mexican Peso, which would be reduced if the BOJ was to end the negative rates policy.
Bank of Japan Monetary Policy Decision
BOJ maintains negative interest rate policy, applies -0.1% rate to financial institutions' accounts at the central bank
Maintains 10-year JGB yield target of around 0%
Maintains band around its 10-year JGB yield target at up and down 0.5% each
Maintains offer to buy 10-year JGB at 1.0% daily through fixed-rate market operations
Maintains band around its 10-year JGB yield target at up and down 0.5% each
Maintains offer to buy 10-year JGBs at 1.0% daily through fixed-rate market operations
Makes no change to forward guidance
Japan's economy recovering moderately
Japan's economy likely to continue moderate recovery
Inflation expectations showing renewed signs of accelerating
Must watch financial and forex market moves and impact on Japan's economic activity, prices
USD/JPY Live Chart