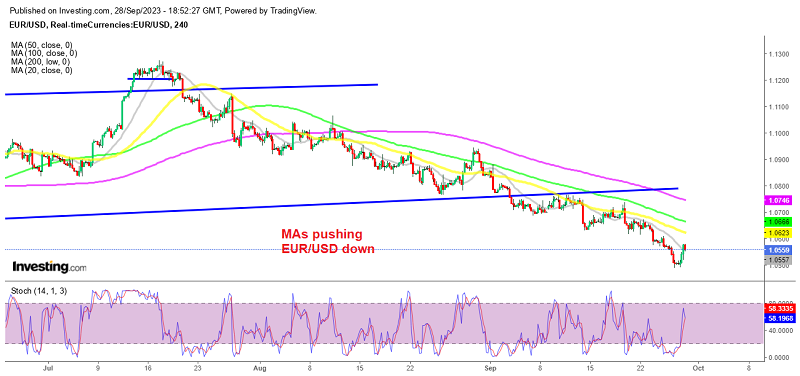 Not Fighting the Downtrend in EUR/USD After the Eurozone CPI Report
EUR/USD has been bearish since the middle of July and it lost nearly 8 cents as it fell below 1.05 yesterday morning. A strong US Dollar (USD) boosted by positive economic data from the US and an increase in US bond yields, has been weighing on this pair.
Although the bearish momentum in this pair faded yesterday around the 1.0500 zone as the USD retreated. Buyers have successfully defended the psychological threshold of 1.0500, mainly due to the retreat in the USD. After yesterday's new 8-month low just below the 1.0500 level, this bounce is a welcome relief for Euro buyers. However, it remains to be seen whether it is a sustainable step.
Traders were anticipating the inflation report which was released earlier today for further guidance. While expectations were for another slowdown, we have seen an increase in inflation in different countries around the world, as a result of higher Oil prices. Yesterday we saw the Spanish CPI (Consumer Price Index) YoY jump from 2.6% to 3.5%. Although the German CPI slowed instead. But despite today's CPIP inflation report from the Eurozone which is listed below, EUR/USD continues to remain bearish overall, so we continue to sell retraces higher.
Eurozone August Consumer Price Index Inflation Report
EUR/USD Live Chart