Forex Signals US Session Brief, November 17 – Shorting Dollars Today
Unlike yesterday, we have seen some nice price action today. But, you can't really figure out what exactly the market sentiment is as all the financial instruments seem to have their own ideas. Risk currencies are on the decline while other risk assets, such as stocks, have been holding steady after yesterday's rally.   
Everyone is selling Dollars today, especially commodity Dollars. 
The Market Doesn't Like Dollars Today
The market seems to have lost interest in Dollars today. The US Dollar has been sliding, albeit quite slowly. However, we can't say the same about the commodity Dollars. They have been declining pretty fast, particularly in early European trading.
AUD/USD has lost about 70 pips overnight while the Kiwi lost 100 pips. There was no data coming out from Australia, New Zealand or China for that matter, so this decline in commodity Dollars looks quite strange.    
Yet, the strangest thing can be seen in USD/CAD. This forex pair tumbled in the early hours of the Tokyo session, but later on, this pair climbed 60 pips higher, as we explained in the previous forex update, which means that the Canadian Dollar lost about 60 pips.
That's particularly strange because at the same time Oil prices were climbing higher. The CAD and Oil are positively and closely correlated, meaning USD/CAD and Oil prices are negatively correlated. So, when Oil goes up today, USD/CAD should move down. This break in correlation today between these two instruments just gave a trade idea for USD/CAD which I will explain below.     
Our USD/CAD Signal and Canadian Inflation Report
We just opened a buy forex signal in USD/CAD, which means that we sold the Canadian Dollar. One of the reasons for this signal is the Canadian inflation report that is scheduled to be released in about an hour.
The Canadian inflation data has missed expectations three times in the last five months and the other two readings were either flat or negative (-0.1%), so the pattern is negative. According to this pattern, today's numbers should be neutral at best. If the pattern repeats, then it should send the CAD tumbling and USD/CAD surging higher.
We don't really know how the inflation report will be, but the market is certainly cautious and doesn't want to get caught long on the CAD. This month, inflation is expected to be around 0.1%, which is pretty low. So even if the current number comes as expected, I don't see the downside at risk in USD/CAD.
On the other hand, if the inflation number misses then I expect USD/CAD to surge higher. After all, it will be either flat or a negative number, so there's only one way to go after that.  
Trades in Sight
Bullish USD/CAD
The price has been moving higher this week
The H4 chart is heading up
The 100 SMA is providing support on the H1 chart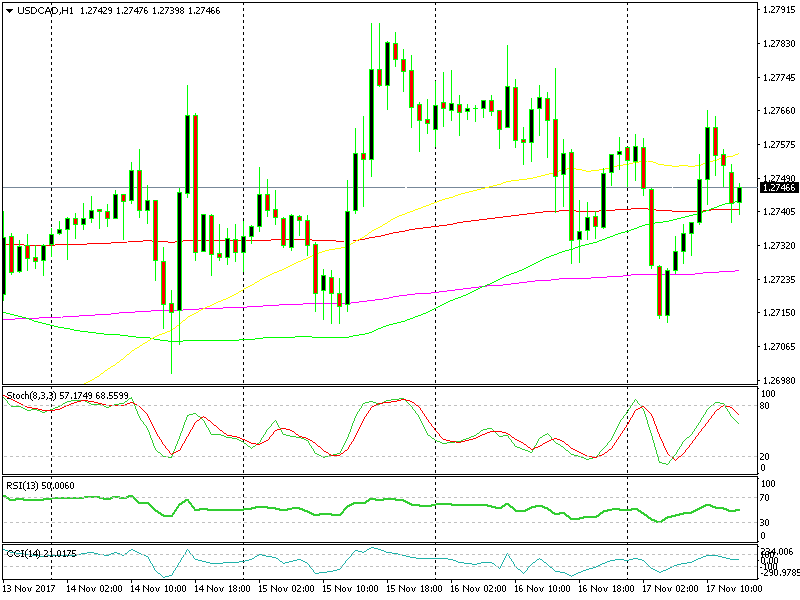 The 100 SMAs are holding on well
As you can see from the USD/CAD chart above, the 100 simple (green) and 100 smooth (red) moving averages are providing solid support in the H1 timeframe. True the stochastic is heading lower, but on the H4 chart stochastic is heading higher. Besides that, the CAD has lost ground when Oil prices were climbing, so if they turn lower, it's likely that USD/CAD climb higher even more.    
Bearish NZD/USD and AUD/USD
The trend has been bearish in the last few months
Last night the downtrend picked up pace
The picture is so bearish for NZD/USD
There are only two points here, but they are more than enough. The trend has been bearish for months and it accelerated even further today, so there's only one way to go with these two forex pairs.
In Conclusion
We decided to go long on USD/CAD since the Canadian Dollar has been declining at a time when Oil was surging. Although, we must wait for the Canadian inflation report to be released. We also must wait for a retracement higher on AUD/USD and NZD/USD in order to go short on these two forex pairs.