GBP Turns Slightly Bullish after the Upbeat CPI Report
The GBP has turned bearish in the last few weeks after a strong uptrend in January. GBP/USD reached some elevated levels in late January and the sellers called it a day around 1.43. Since then, this pair has been following a downtrend and it lost more than 600 pips during this time.
We have heard mixed comments from Bank of England (BOE) officials in the last several days. Some of them sounded hawkish, although the market didn't really move on them.
Then there were some dovish comments over the weekend from Haldane when he said that there's no rush in hiking interest rates.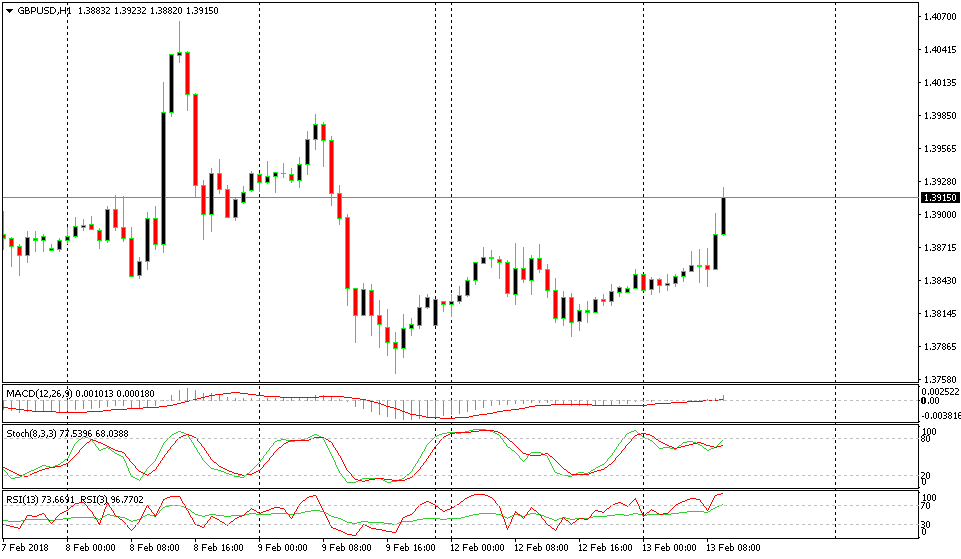 GBP/USD jumped higher after the CPI report
The forex market got confused which left the GBP prone to economic data. The first round of economic data this week was today's inflation report from the UK. The yearly CPI (consumer price index) was expected to decline by 0.1%, but it remained at 3%.
The core CPI number jumped two points higher to 2.7% from 2.5%. All inflation numbers are above the BOE's 2% target. This puts more pressure on the BOE to hike interest rates and GBP/USD is about 70 pips higher and still climbing.
Although, some of this move is due to USD weakness. Nonetheless, the picture of GBP/USD is slightly bullish now. The retail sales scheduled for Friday, which might change the sentiment again, but there's plenty of time until then.