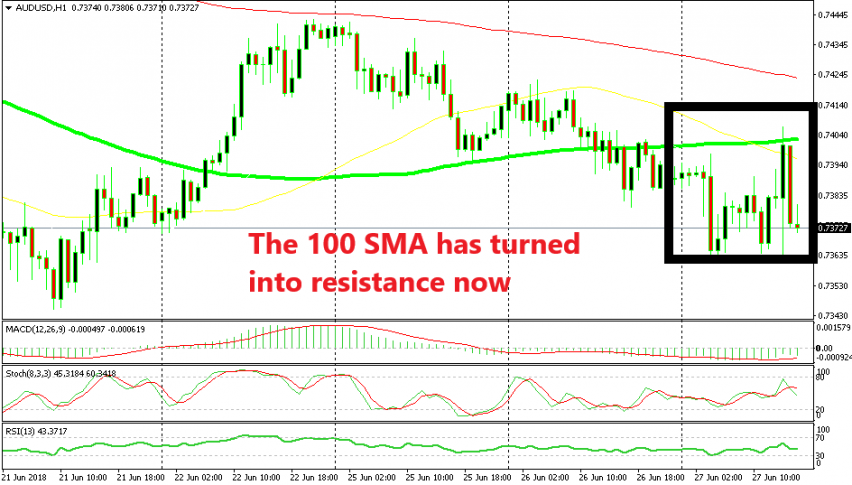 AUD/USD Bounces on Mnuchin's Comments
The US decided to go soft on China, or at least that's what the White House administration officials said. Although, they have eaten their words many times so they have lost a lot of credibility among other leaders and in the financial markets.
Nonetheless, the sentiment improved somewhat after the Commerce Secretary Mnuchin said that the US "is not singling out China on investment restrictions". They also said that "Trump decided against the harshest measures on China". The US won't invoke the National Emergency Law on China but instead, will use the CFIUS to protect US technology. I have no idea what the CFIUS is but it could be even worse, depending on the details.
Anyhow, the sentiment improved after those comments and USD/JPY popped 50 pips higher. Risk currencies also jumped higher. NZD/USD reached the 20 SMA (grey) on the H1 chart, which we saw as a good opportunity to short this pair.
We also had another sell forex signal in AUD/USD. AUD/USD jumped higher too but it found solid resistance at the 100 SSMA (grey). This moving average has provided support to AUD/USD in the last two days but it was broken yesterday as risk currencies slipped lower. Now, it seems like the 100 SMA has turned into resistance. Hopefully, the sellers will remain in control.
AUD/USD has been making strong gains this week, with the RBA helping the bullish case, but buyers are facing the 200 daily SMA now
3 days ago