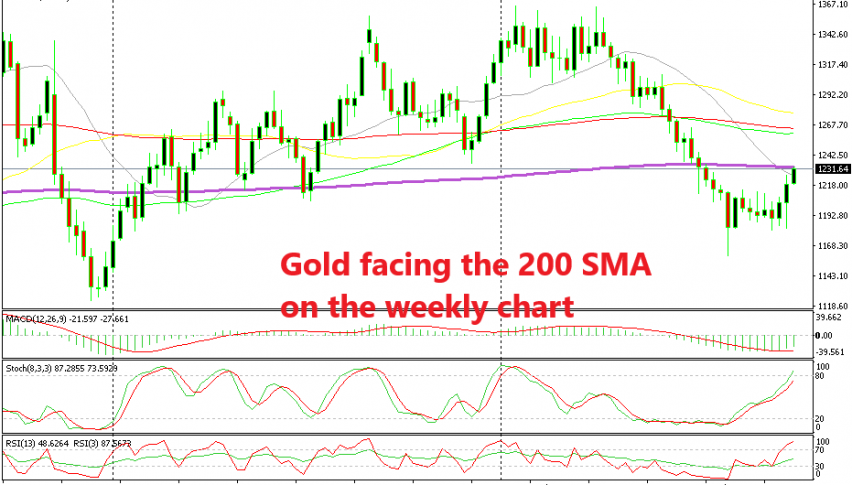 Gold Makes A Reverse at Last, but Now Faces Moving Averages
Gold XAU has been following a bearish trend for quite a few months now. It made a bearish reversal back in April and it has followed this steep trend without any bounce at all. But now it seems like it made a bullish reversal. Gold started turning higher three weeks ago and the deteriorating market sentiment has helped it climb around $70 from the bottom.
But, the road is not clear for buyers. Looking at the weekly chart above, we see that Gold buyers are facing the 200 SMA (purple) now. This moving average has provided support at the beginning of last year, so it should provide some resistance now and it is doing that.
The stochastic indicator is also nearly overbought on the weekly chart. Soon it will be overbought which means that the retrace in the weekly chart will be over.
The 50 SMA is providing resistance on the monthly time-frame
Although, if we switch to the monthly Gold chart, we see that stochastic is oversold and it is just turning higher. But, we still have another moving average here which is standing right above the current price. That moving average is the 50 SMA (yellow) and it comes at the same level as the 200 SMA on the weekly chart.
That should strengthen the resistance at the area around the $1,230 level. So, the bulls are in control in Gold now as the sentiment continues to be negative since we are approaching the EU summit without an government on Brexit and on the Italian budget deficit for next year. Will the buyer be able to push above this resistance area? Perhaps, but we will let you know if that happens. We might as well open a buy trade if that happens, so hang around guys.