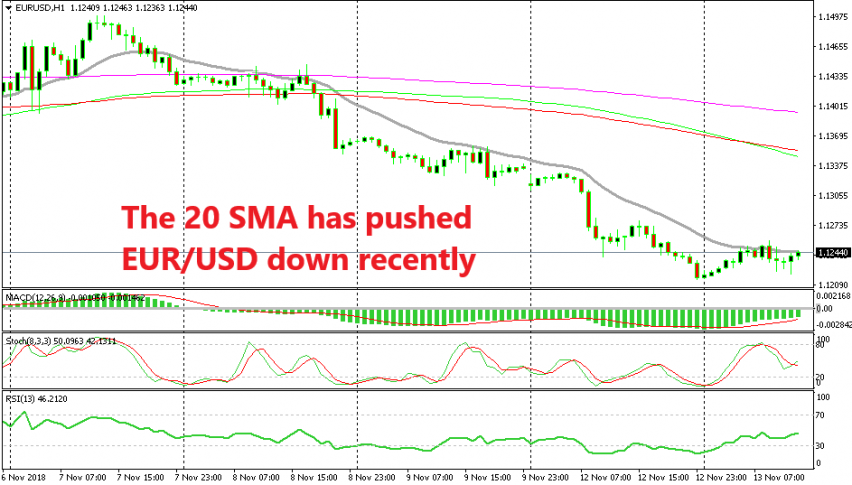 Using Smaller Moving Averages as EUR/USD Extends the Decline
EUR/USD has turned pretty bearish since late September but the strong support level at 1.13 held one last time before the US midterm elections as traders adjusted their positions before the elections, just in case. But, once the elections were over and the FOMC statement was released, the market resumed its normal trading and EUR/USD resumed its bearish trend.
The support level at 1.13 couldn't resist any longer after several attempts to break it to the downside. So, it finally gave up and the downtrend picked up even more pace after the break of this major level. 1.13 was broken at the beginning of the European session yesterday and EUR/USD lost more than 100 pips from the highs to the lows.
Although this morning EUR/USD has been retracing higher, the retrace seems pretty anemic. The buyers are finding it too hard to push above the 20 SMA (grey). As we can see from the H1 chart above, the 20 SMA has been providing solid resistance to this pair in the last three days.
When the trend is not very strong, the bigger time-frame moving averages provide support/resistance, but when the trend picks up pace, the smaller period moving averages come into play. So, we decided to go short on EUR/USD since the 20 SMA is capping the retrace. Although, the USD is under some pressure at the moment so let's see if the downtrend will resume again soon for this pair.