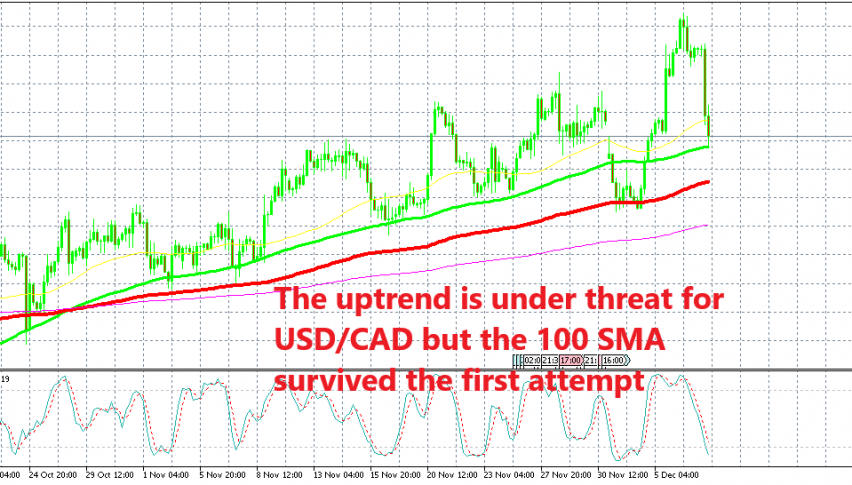 Early Christmas For the CAD Today
How times change, huh. USD/CAD opened with a 70 pip gap lower this week on Monday as OPEC was said to be agreeing on Oil production cuts. But, as the week progressed the rumours started coming out that OPEC+ was only going to cut Oil production by 1 million barrels/day, which didn't satisfy the market, but the things changed dramatically today.
The Canadian Dollar started reversing lower and USD/CAD reversed higher. Yesterday, the Bank of Canada sounded sort of dovish on their statement and press conference as they said to be halting interest rate hikes after two hikes this year. That sent the CAD lower and USD/CAD climbed nearly 300 pips from the bottom to the top this week.
Today, the rumours from the OPEC+ meeting in Vienna were negative as Iran didn't want to be included in the production cut deal since they are already under sanctions from the US. The Saudi Arabia which leads OPEC didn't agree on that and it seem like they have had their way, because Iran accepted to cut production as well.
But, the biggest Oil gift for the CAD came from Russia as it agreed to cut production by 400 million barrels/day, bringing it it higher to 1.2 million barrels for the whole OPEC+ cartel. Oil prices are more than $3 higher today and the CAD received a nice boost from that
But the early Christmas presents weren't over for the CAD. New jobs in non-farming industries increased by 94.1k against 10.5k expected. That's the biggest increase in new jobs since June 2013. Wait, there's more. The unemployment rate declined to 5.6% which is another record number, at least in the last two decades as far back as the chart goes.
USD/CAD has turned bearish now as the CAD surges higher and this pair has lost nearly 200 pips from the highs. Although, the uptrend is still in place for this pair. The 100 SMA (green) which has been defining the uptrend held its ground on the first attempt and the price has bounced 25 pips higher, but that moving average looks in danger, as well as the uptrend now that fundamentals have turned bullish for the CAD.
If the 100 simple MA (green) goes, then it's the turn for the 100 smooth moving average (red). That moving average provided support this week during the decline and it reversed this pair to bullish, so it is another strong support indicator. Whether the trend will reverse it remains to be seen, but there is a big chance that it does, although these two moving averages should be broken first, so keep an eye on the USD/CAD H4 chart in the coming session.