At first glance, it seemed like there was not enough bullish momentum to cause a bullish week for the cryptocurrencies market with an ongoing decline of ten percent since my last analysis. However, when Robert J. Jackson Jr., an SEC commissioner, commented on the pending ETF situation that he thinks that someone will satisfy the standards for an ETF approval, new fuel was delivered to restore faith in a positive outcome for the pending ETF decision. Shortly after Coindesk published an article about his statement, Bitcoin surged by nearly ten percent. So, let's take a look at where Bitcoin and the correlating cryptocurrencies market is heading this week.
BTC/USD DAILY CHART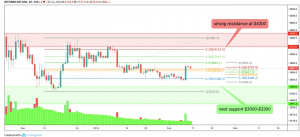 Bitcoin rose by $400 from $3,400 to $3,800 and faced rejection at the 0.5 fib level. While I previously assumed that the bullish divergence in the MACD would most likely result in a rejection of the $3,665 mark, Bitcoin managed to exceed that level by $140.
That being said, it seems likely that Bitcoin will find short-term support at the $3,650 level, where the 0.382 fib level is located. If Bitcoin holds above $3,550, it seems likely that a continuation of the uptrend will follow. However, the overall market sentiment shows no signs of an ending bear trend, which is why I suggest playing the market with caution.
ETH/USD DAILY CHART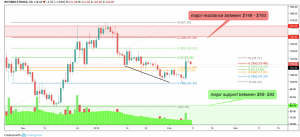 Ethereum followed the price action of Bitcoin and surged by 22 percent since its last low on the 6th of February. It also faced rejection at the 0.5 fib level and Ethereum might find short-term support between $111 and $116, which would indicate further upward movement.
If we assume a continuation of the bear trend, the next major support is found between $68 and $85.
TOTALMARKETCAP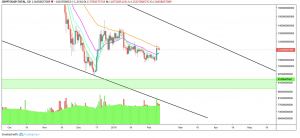 The overall cryptocurrencies market capitalization needs to break the 50-day EMA in order to make the target of the trendline resistance around $130 billion valid. With the current rejection by the 50-EMA in the daily chart, it seems likely that the total market cap is heading to its support zone around $90 billion.
QUANT was the winner of this week's gaining cryptocurrencies, surging by more than one hundred percent.
Binance's coin BNB also had a very bullish week, gaining more than 33 percent.
Cryptopia remains under maintenance and users will have to wait for an unknown period of time until they will have access to their wallets again.
Ethereum's hard fork Constantinople is postponed to 27th of February.