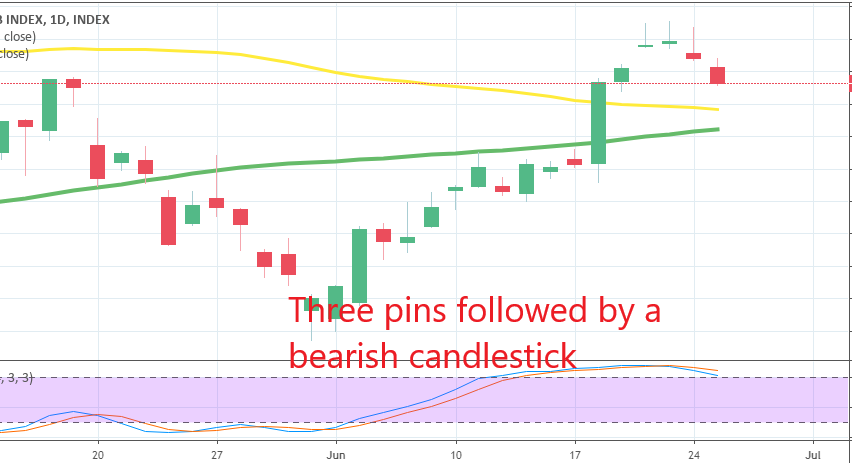 Italian MIB Forms a Reversing Pattern on the Daily Chart, After the Uptrend in June, Despite the Endless Row Between Italy and the EU
The main Italian index FTSEMIB, or just MIB for short, has been trading on a bullish trend since the end of December when all stock markets turned bullish. The bullish trend continued like until the beginning of May when the sentiment turned negative for a number of reasons, such as the increasing weakness of the global economy, the escalation of the trade conflict and geopolitical tensions.
For these reasons, stock markets turned bullish and MIB fell from around 22,000 points in May, to 19,500 at the end of May. June was bullish for MIB, despite growing tensions between Italy and the European Commission. The EU has opened the EDP (extensive debt procedure) against Italy for extending the deficit limit but main Italian politicians have been rejecting it and yesterday Italy's Salvini said that they are not ready to give any budget deficit commitments for 2020.
I don't think they will give any commitments until they settle things in the European Parliament where Salvini's party won a big chunk of the parliament. The confrontations between the two parties should have weighed on Italian stocks but they have followed the rest of major indices higher this month, although MIB has formed a bearish reversing pattern on the daily chart.
In the last three days, MIB has formed three upside-down pin candlesticks which are reversing signals after the recent bullish move. If we do see a reversal now, this might as well be the reversal of the bigger uptrend which started last year because this would be a lower high, which usually is a strong sign of a trend reversal. But, let's see if the reversal will actually happen now.