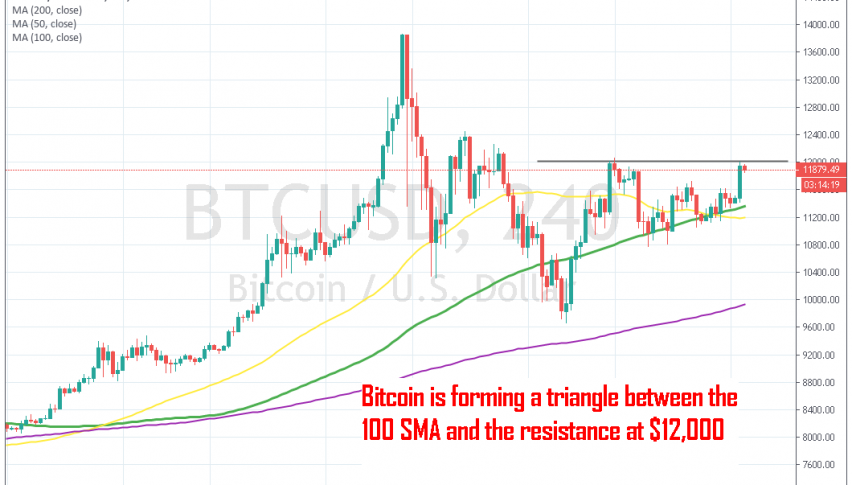 Bitcon Remains Bulish As it Finds Support at the 100 SMA
Cryptocurrencies have had a great year so far in 2019. The Q1 wasn't anything to remember, but during that period, altcoins consolidated in a range, which was a sign that the decline of last year was over. BITCOIN consolidated in a range between $3,000 and $4,000 in the first three months, but then the break of the $4,000 level came and Bitcoin hasn't looked back since then.
All major levels were broken without much resistance. I thought that the $6,000 level was going to provide some resistance because it provided support for a long time last year, but that level got broken pretty easily and that was another sign that the buyers were in control. then when the $10,000 level gave way, the picture was pretty clear, Bitcoin was going to head for $20,000.  Bitcoin surged close to $14,000 in the following sessions, but reversed back down and slipped below $10,000 for a moment.
But, the price didn't stay below that big round level for too long, which showed that the decline was just a pullback before the uptrend resumed again. The price climbed to $12,000 as the buyers resumed control and then retraced back down, but this time the retrace was shallower. Bitcoin found support at the 100 SMA (green) for the past several days and it has turned bullish again now.
So, the pressure remains to the upside as the lows get higher and retraces get shallower. Now the buyers are facing the $12,000 level once again which seems to have formed a resistance zone around it. If this resistance level gets broken, then the next target will be $14,000 and then $15,000. If you are long from below, then you have to watch the price action to see if bitcoin breaks the resistance at $12,000.